Utility equipment: WRS HEPA High Rail Guzzler
Utility vehicles: WRS Environmental Services, a provider of environmental services, announced its new WRS HEPA High Rail Guzzler to its line of equipment and technologies.
Aug 18th, 2015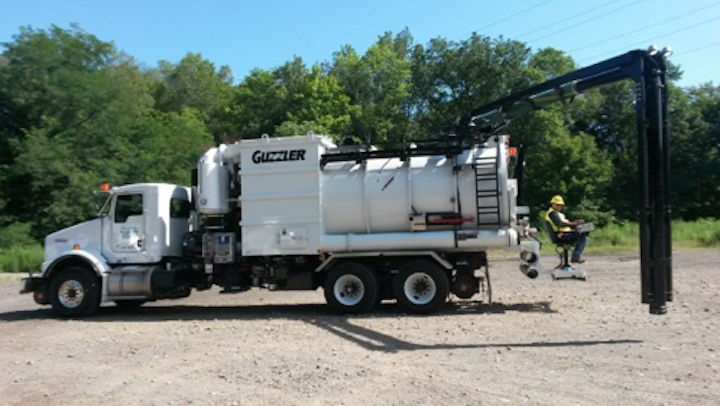 Utility supplies: WRS Environmental Services Inc., a provider of environmental services, announced its new WRS HEPA High Rail Guzzler to its line of equipment and technologies. This new equipment offers the industry's most advanced truck mounted industrial vacuum for the extreme demands of the rail industry. To further increase the capabilities of this vacuum unit, WRS, in conjunction with the manufacturer, developed this unit to be the first HEPA Industrial High Rail Vacuum truck in the country.
The WRS HEPA High Rail Guzzler features a solid steel boom that extends all the way to the ground, eliminating common wear problems that the vacuuming of ballast stone causes on conventional hose setups. A rear-door mounted operator station is incorporated to give total vacuum and track mobility control from the rear of the vacuum unit. This station provides full control of the vacuum system, high rail creep drive and braking system, boom movement, and all safety features, such as the emergency stop and vacuum relief.
Forward and reverse are hydrostatically controlled via a heavy-duty creep drive transfer case with a joystick control mounted on the operator's station. This creep drive allows the Operator to move the vacuum unit forward and reverse along the tracks without interruption of the vacuum activities, providing total operator control of the vacuum truck from a rear mounted control station. Additional safety is provided with a specially designed high rail camera option increasing operator visibility of blind spots on the sides and front of the vacuum unit. Full visibility of the boom and rail area are viewed on the multi-function display by the operator from the control station.
"Dual HEPA Filtration cylinders have been retrofitted to the vacuum system to allow for the removal of Asbestos and Lead laden soils/ solids, Brake Dust and Potential Airborne Contaminates while achieving 99.97% on 0.3 microns filtration efficiency," continued Rodgers.
"WRS utilizes state-of-the-art equipment and advanced technologies as well as a highly trained workforce to provide customers with quality workmanship, innovative and customized turn-key solutions," stated CEO Michael Rodgers. "The addition of the HEPA High Rail Guzzler to WRS fleet will allow us to better serve our clients and offer cost effective solutions."
About WRS
WRS Environmental Services, Inc. is the leading provider of environmental, utility and industrial services for more than 20 years. Utilizing state-of-the-art equipment and highly trained professionals, each year WRS responds to more than 1,500 hundred environmental emergencies and incidents, disposes of hazardous and non-hazardous waste, provides vacuum services, that include vacuum excavating, and handles asbestos, lead and mold abatement and remediation.
For more information about WRS or other products, click here to go to Utility Products' Buyers Guide.