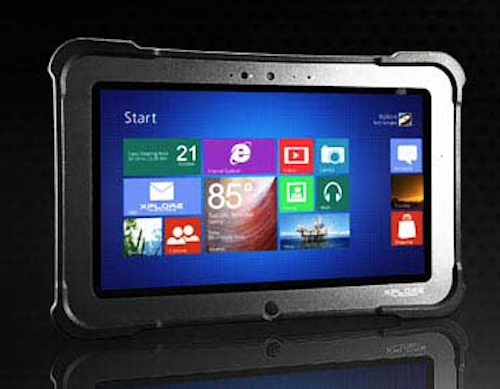 Utility equipment: Xplore Technologies Corp., a manufacturer of the most powerful, longest-lasting, ultra and fully-rugged tablets, announced Xplore xCapture Pro camera software for its Bobcat and XC6 Windows-based tablet PCs. The new camera software provides end users with photo editing, geotagging and enhanced barcode scanning functionality. The addition of xCapture Pro as an integrated tool for the Bobcat and XC6 reduces the need for additional devices in the field and offers functionality to enhance the productivity of mobile workforces.
"We continue to listen to our customers and deliver the features and capabilities they're looking for. Customers in vertical markets such as utilities, field service and insurance can take advantage of these enhanced features to improve productivity in the field," said Mark Holleran, president and COO at Xplore Technologies. "Our new xCapture Pro camera software is another example of the innovative engineering and design that Xplore is bringing to its robust line of ultra and fully-rugged tablet PCs."
Xplore xCapture Pro is an ideal enterprise solution for field service calls, asset management, inventory management or occasional scanning of barcodes. The software is also beneficial for users who may need to know the time and location for when and where a photo was taken, such as a field service technician or insurance adjustor who wants to document an event or condition. They can also use the software to simply edit a photo or make notes on the image.
Features and Benefits:
• Photo Editing: Software provides users the ability to crop, flip, rotate or annotate images. Field workers who have experience taking photos with their cell phones and editing with the tools that are available in popular consumer apps, such as Instagram, can quickly apply those same skills to the xCapture Pro software, minimizing the need for training, increasing the quality of images and allowing for innovative uses in the field.
• Geotagging: Users can now take a single picture of an incident or site with all relevant information included, eliminating extra documentation. xCapture Pro utilizes the tablet¹s GPS location data to embed coordinates with a time/date stamp on the lower left corner of a photo and display the image taken location on a map which can be instantly shared by email or upload.
• Barcode Scanning: Functionality traditionally only available as a peripheral or additional device costing hundreds of dollars. The new feature enables usage of the Bobcat or XC6 cameras as a barcode scanner for light scanning needs.
Availability
The Xplore xCapture Pro software is loaded on all currently shipping Bobcat and XC6 models. The software is also available for download for existing Xplore Bobcat and XC6 customers.
About Xplore Technologies®
Xplore Technologies Corp. has been a leading global provider of truly rugged tablets since 1996. Xplore tablets are among the most powerful and longest lasting in their class, withstand nearly any hazardous condition or environmental extreme, and feature competitive pricing and significant ROI. The company's products are sold on a global basis, with channel partners in the United States, Canada, Europe and Asia Pacific. Xplore Technologies' tablets are deployed across a variety of industries and sectors, such as energy, military operations, manufacturing, distribution, public services, public safety, government, and other areas with hazardous work conditions.
For more information about Xplore Technologies or other products, click here to go to Utility Products' Buyers Guide.