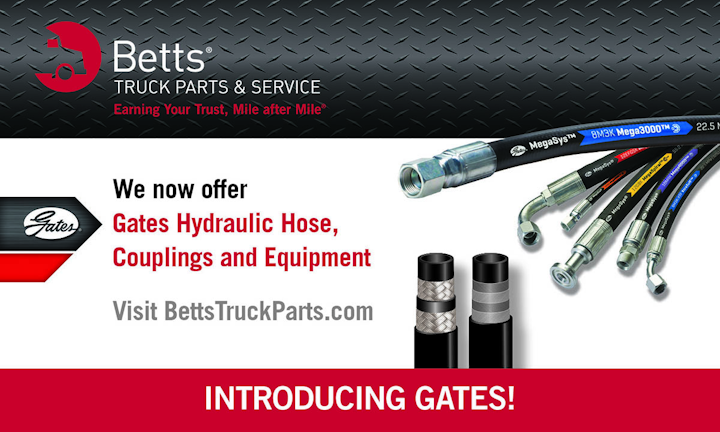 Utility vehicles:Betts Truck Parts & Service announced the addition of Gates Corporation's hydraulic hose, couplings and equipmentto its product offering for heavy-duty vehicles at its locations in Fresno, Manteca, Sacramento and San Leandro, California. The program includes Gates' exclusive MegaSystem®, which consists of hose, couplings and crimpers, providing an integrated system for superior performance.
John Devany, sales manager, Betts Truck Parts and Service, says hydraulic hose--from low-pressure to ultra-high pressure--will be available for heavy duty vehicles and for customers in agricultural, construction and industrial markets. The program includes wire-braid hose and spiral-wire hose.
"You'll find Gates hydraulic hose on some of the most demanding equipment around the world," said Devany. "We are pleased to extend this program to our customers because Gates hoses and fittings offer efficient, long service lives to provide superior uptime at great value."
Devany says customers may purchase individual hydraulic hose and fitting components or Betts can assemble and crimp components to provide finished hose assemblies.
After launching the program at the four branch locations, Betts Truck Parts & Service plans to add a similar product offering at its remaining four branch locations in California, Oregon and Arizona sometime in 2016.
Betts Truck Parts & Service provides parts and service for nearly every part under the frame rail of a medium or heavy duty truck.
About Betts Truck Parts & Service
Betts Truck Parts & Service partners with its commercial vehicle and fleet customers and supplier partners to help keep their trucks and trailers on the road. Betts Truck Parts & Services stocks inventory of quality replacement parts manufactured by transportation industry leaders and provides experienced installation and repair services for all types of commercial vehicles. It also supports major commercial transportation hubs throughout California, Oregon and Arizona with its network of eight branch locations. Betts Truck Parts & Service is one of three operating divisions of Betts Company, a six-generation family owned company established in 1868.
About Betts Company
For over 145 years and during six generations of continuous family ownership, Betts Company has practiced daily the mission of its founder and decorated spring maker William Michael Betts I ­ "Building Well, Serving Better." From its proud beginning as the first spring manufacturer in the Western United States, Betts has developed into a diversified concern serving heavy-duty transportation, aftermarket automotive and other industrial sectors with innovative, patented products made in the USA.
For more information about Betts Truck Parts & Serviceor other products, click here to go to Utility Products' Buyers Guide.