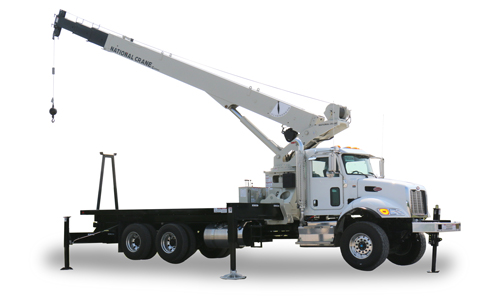 Boom Truck: Visitors to National Crane's booth at TCI Expo 2015 will be able to view the all-new NBT30H-2 boom truck. This new model is an ideal crane for the tree care industry that offers unmatched versatility and roadability, as well as an option to have the longest boom in its weight class.
The event is being held in Pittsburgh, Pennsylvania, November 12-14, 2015. Several thousand tree care professionals are expected at the David L. Lawrence Convention Center for the annual conference. National Crane will occupy booth #201.
The NBT30H-2 showcases the newest and most cutting-edge boom truck technologies to an industry well-poised to take advantage of the increased efficiency and versatility it offers.
Justin Pilgrim, global product director for boom trucks and carry deck cranes, said the company is eager to showcase the new boom truck at the expo as it could enhance the return on investment for many companies in the industry.
"TCI Expo is a great annual event that gives us a prime opportunity to meet with tree care professionals face-to-face and hear first-hand about their unique crane needs," he said. "In the past, we've shown some of our most popular large boom truck models such as the popular NBT40 Series, but this year we're bringing the new NBT30H-2 because we believe it can help many companies bolster their bottom lines."
The NBT30H-2 has a 30 USt capacity and comes with either a 100 ft or 110 ft four-section boom, the latter of which is the longest in its class. Dual-H style outriggers allow full, mid and retracted span capabilities, making the crane versatile for a variety of tree care applications. It has an efficient load-sensing hydraulic system, a fully integrated Rated Capacity Limiter (RCL) and electrical system with a graphical color display. The dual-side operator stations provide user-friendly mechanical control levers, with information at operators¹ fingertips, such as truck engine information, start/stop switches and two-speed hoist selection.
"This new National Crane boom truck is designed to be flexible and efficient, two characteristics needed to thrive in the tree care industry," Pilgrim explained. "From multiple boom lengths and mounting configurations to options such as baskets and radio remotes, customers will be able to get on and off the job site quickly, with a limited amount of set up and preparation. Add to that a class-leading boom length and this crane is sure to improve our customers' ROI."
TCI Expo is growing every year. In previous years, nearly 3,000 attendees and some 200 exhibitors attended the growing event. The use of the boom trucks has steadily grown in the tree care industry over the last decade. With large lifting capacities and truck-size chassis, they are extremely maneuverable both on the job site and from job-to-job, offering great advantages for users.
Stephenson Equipment owns the NBT30H-2 that will be on display at TCI Expo. This Manitowoc Cranes dealer has been providing sales and rentals of construction equipment, paving equipment and cranes since 1957. Headquartered in Harrisburg, Pennsylvania, the company serves customers from six locations across Pennsylvania and New York. Stephenson Equipment is an official dealer of Manitowoc, Grove, National Crane boom trucks and Potain tower cranes.
ABOUT THE MANITOWOC COMPANY, INC.
Founded in 1902, The Manitowoc Company, Inc. is a multi-industry, capital goods manufacturer with 92 manufacturing, distribution, and service facilities in 25 countries. The company is recognized globally as one of the premier innovators and providers of crawler cranes, tower cranes, and mobile cranes for the heavy construction industry. Manitowoc is also one of the world's leading innovators and manufacturers of commercial foodservice equipment, which includes 24 market-leading brands of hot- and cold-focused equipment. In addition, both segments are complemented by a slate of industry-leading product support services. In 2014, Manitowoc's revenues totaled $3.9 billion, with approximately half of these revenues generated outside of the United States.
For more information about Manitowoc or other products, click here to go to Utility Products' Buyers Guide.