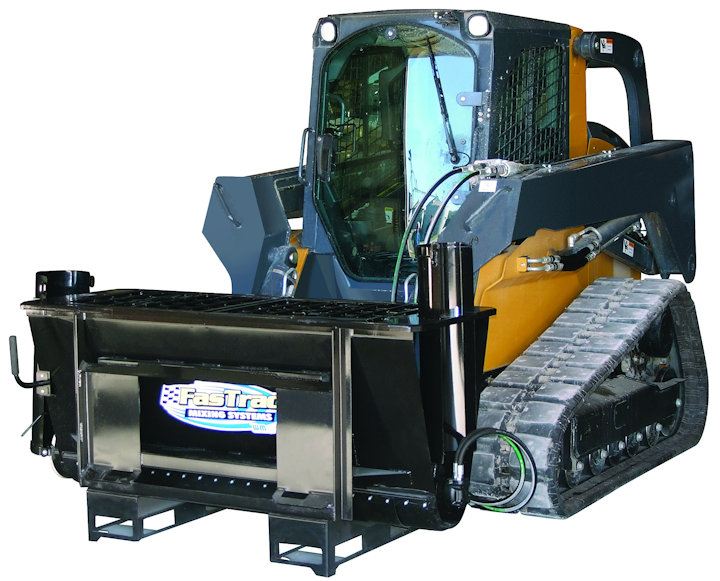 Skid steer attachments: Western Material & Design LLC introduces the FasTrac Concrete Mixer. The FasTrac converts any skid steer loaderinto a portable concrete mixer. Portability and versatility make the FasTrac ideal for a broad array of applications where speed is important, and space may be limited. The model 750 has a 3/4 cubic yard capacity, while the model 500 has a 1/2 cubic yard capacity.
Wherever fast-setting concrete is used, the FasTrac is a good option because the mixing can be done right at the pour site. Airports, military facilities and DOT's use it to reduce downtime during repairs. Concrete contractors find it is easier, and less expensive, than scheduling a full-sized mixer for smaller jobs. Landscaping and decorative concrete contractors like the added capacity compared to portable mortar mixers. Fencing contractors like the precise control of small pours, and how they can easily move from post hole to post hole. For rental outlets it's a viable alternative to small batch plants and pre-mixed cartloads. The Fastrac Mixer is also is used to transport concrete to places that ready mix trucks can't reach.
A patent pending design and numerous features makes the FasTrack a versatile workhorse. Contractors can pour on the left or right side, and the discharge chute extends up to six feet, providing more latitude when positioning the mixer. The pour gate seals to prevent water and material from escaping, and makes the unit ideal for self-leveling applications that involve a more fluid mix. Weighing 750 lbs., less than competitive mixers, it's easier to stay under the skid steer loader's lifting capacity when the mixer is full.
The Concrete Mixer is powered by a hydraulic motor connected to standard quick-disconnects for skid steer loaders. The low maintenance design features a solid steel, all-welded auger; and a rubber trough-base provides the flexibility necessary to handle aggregates of varying sizes while enabling tighter tolerances for superior mixing. The main trough is designed prevent dry mix from gather in corners, and the mixing auger can operate in either direction for superior mixing.
Terry Kraemer, President, Diamond Surface, Inc. states, "We use the Fastrac 750 for highway patching projects, and I like how it is mobile, yet large enough to provide added efficiencies; and compared to typical mortar mixers, it provides superior mixing and is faster and easier to clean up."
Western Material & Design, LLC manufactures the FasTrac line of rapid strength cements, concretes, shotcrete and other repair products. Located in Harrisonville, Missouri, the company is centrally located for convenient shipping across North America.
For more information about Western Material & Design or other products, click here to go to Utility Products' Buyers Guide.