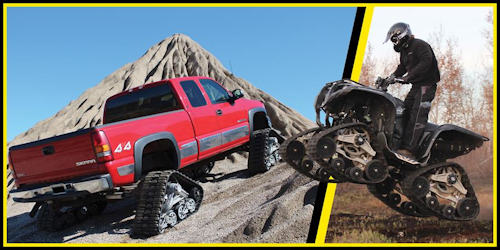 Truck accessory: Mattracks' YS3 Series heavy-duty rubber track offers an off-road mobility solution ideal for trucks with a Gross Vehicle Weight Rating of up to 15,000 lbs (6800 kg). The 175-YS3 system is designed with the highly efficient 18-inch wide rubber track, the Mattracks exclusive, patented rubber torsion, anti-torque system and concentric pivot suspension.
Features:
• 20 percent more efficient
• 20 percent better fuel mileage
• Less power required
• Minimal maintenance
• Minimal ice buildup
• Quieter and smoother
• Less operator attention required
Customer note on YS3 MODEL:

Over the last several winter touring seasons, we have tested several Mattracks® prototype models. Mattracks® hit it on the head with the YS3 (Yellowstone Special 3) which came out in 2014. Testing showed a 20 percent decrease in rolling resistance, directly coinciding with the 20 percent increase seasonal average fuel mileage. They are a dream to drive, are absolutely quiet, are unbelievably smooth, require a lot less power and we are able to run in a higher gear with no gear hunting (downshifting). I compliment you and the staff on this generation of the Yellowstone Special Track Systems! Randy Roberson, Buffalo Bus Touring Company, West Yellowstone, MT.
The Mattracks Plus series extends the ground contact area, adding up to 50 percent more of our signature heavy-duty rubber track to get you even further on any terrain with greater flotation and better traction. The patented design incorporates our exclusive offset rocker system for smooth operation, while providing for extra fender clearance.
Available Mattracks® Models: 105M1-A1 Plus, 105M1-A1-SA Plus, 105M1-A2-Plus, 105M1-A2-SA Plus, 150M1-A1-Plus, 150M1-A1-SA Plus, 150M1-A2-Plus, 150M1-A2-SA Plus.
If you need tracks, we can fit your vehicle. Give us a call at 218-683-9800 or Toll-Free in U.S. & Canada 877-436-7800 and we will get you tracked up!
For more information aboutMattracks or other products, click here to go to Utility Products' Buyers Guide.