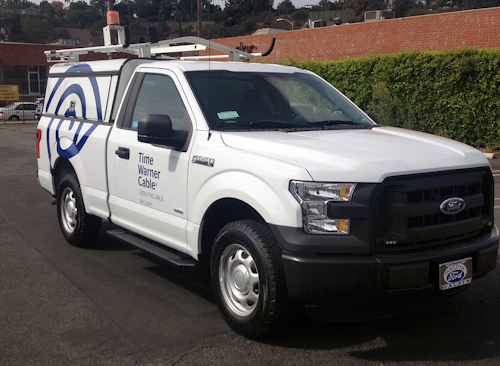 Utility vehicles: Time Warner Cable is the latest company to add the 2015 Ford F-150 to its fleet ­ purchasing more than 540 trucks. Time Warner Cable (TWC) chose F-150 as the vehicle best suited to continue to build a work-ready, energy-saving fleet that achieves greater levels of sustainability, environmental efficiency and lower operating costs.

The 2015 F-150 is up to 700 pounds lighter than previousF-150 trucks ­ resulting in greater towing and payload capacities, an improved power-to-weight ratio, and better performance and fuel efficiency.

When equipped with an available 2.7-liter EcoBoost® engine with standard Auto Start-Stop Technology, the F-150 4x2 has a best-in-class EPA-estimated fuel economy ratings of 19 mpg city, 26 mpg highway and 22 mpg combined (actual mileage will vary). The 2.7-liter EcoBoost enables an estimated 29 percent improvement in fuel economy compared with the 5.0L V8 engine.

The 2.7-liter EcoBoost produces 325 horsepower and 375 lb.-ft. of torque with a maximum payload rating of 2,250 pounds and maximum tow rating of 8,500 pounds ­ ideal for meeting mid-range capability requirements and the needs of more than 90 percent of light-duty truck customers.

"The 2015 Ford F-150 is the toughest, smartest, most capable F-150 ever, and sets the standard for technology," said Kevin Koswick, director, Ford North American Fleet, Lease and Remarketing Operations. "Time Warner Cable's choice of Ford F-150 will further help reduce the fleet's environmental footprint and lower operating costs."

TWC's fleet drivers will use the trucks to transport equipment for installing and servicing Internet, TV and phone services to its customers' homes and businesses. The company, based in New York City, is the nation's second largest cable broadband firm. TWC says it selected Ford F-150 for its work-ready capability and multiple energy-efficient technologies.

The F-150 trucks come with the available 2.7-liter EcoBoost V6 engine, and standard Auto Start-Stop. This technology, specially tuned for truck customers, shuts off the engine when the vehicle is at a stop ­ except when towing or in four-wheel drive ­ to give drivers power on demand when they need it most. When the brake is released, the engine restarts quickly.

"Time Warner Cable is committed to reducing our impact on the environment," said George Survant, senior director, Fleet Management, Time Warner Cable. "The Ford F-150 is another way to help us achieve our sustainability goals. Energy and fuel efficiency are very important to us as we continue our efforts to ensure the TWC fleet is environmentally friendly."
TWC has added more than 400 diesel Ford Transit vans and 200 Transit Connect vans to its fleet in recent years. The Transit vans achieved an estimated 47 percent improvement in fuel economy.

Time Warner Cable estimates saving 2,900 tons of greenhouse gas emissions as it continues to make upgrades to its fleet.

TWC received accreditation from the NAFA Fleet Management Association as a NAFA Sustainable Fleet for successfully demonstrating the progress made toward reducing total emissions and the negative environmental impact made by extraneous carbon fuel usage. TWC was also recently announced as a finalist in the US Chamber of Commerce Foundation 2015 Corporate Citizenship Awards for Best Environmental Stewardship Program.

For more information about TWC's fleet transition, visit its Untangled blog and check out the video on its YouTube channel, https://www.youtube.com/watch?v=d-DegUGZTGY.
About Ford Motor Company
Ford Motor Company, a global automotive industry leader based in Dearborn, Michigan, manufactures or distributes automobiles across six continents. With about 195,000 employees and 66 plants worldwide, the company's automotive brands include Ford and Lincoln. The company provides financial services through Ford Motor Credit Company.
For more information about Time Warner Cable or other products, click here to go to Utility Products' Buyers Guide.