Fleet maintenance: Automatic leveling system
Vehicle maintenance: Air Lift Company's SmartAir II automatic leveling system offers on-board air spring adjustment when towing.
Sep 29th, 2015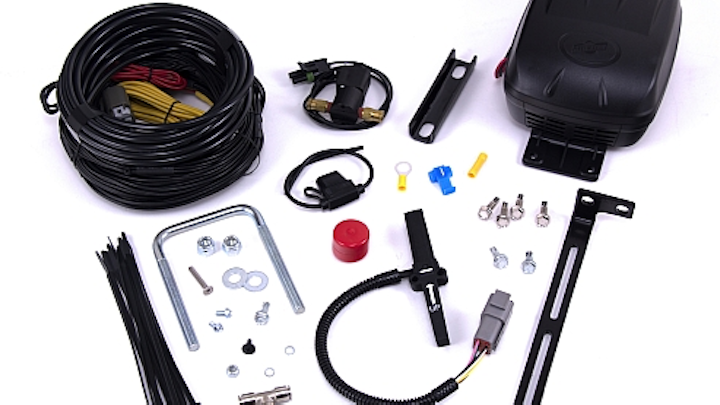 Fleet maintenance: Keeping a vehicle level and stable is critical for driving when towing heavy loads. Air Lift's new and improved SmartAir(tm) II automatic self-leveling system is designed to maintain optimum ride height on any road, under any load condition.

SmartAir II employs unique leveling sensors that accurately detect when the vehicle isn't level and automatically return the air springs to the desired ride height.

Engineered to provide true, automatic control, SmartAir II features a unique, non-contact height sensor, which maintains a level ride with no lines or controls in the cab. The system includes an improved, weather-resistant harness and durable components that meet OEM standards for quality and function.

The kit comes complete with a pre-assembled wiring harness, electronic sensor system, compressor and an illustrated instruction manual for easy installation. Two models are available: a single-path system (#25490), which allows two air springs to inflate simultaneously, or a dual-path system (#25491), which inflates left and right springs independently, depending on load.

SmartAir II is backed by a 60-day, no-questions-asked money-back guarantee and comes with a two-year warranty. Note: SmartAir II does not work with coil-sprung vehicles or Air Lift 1000TM adjustable air helper springs.

To learn more about the product, and to determine which kit is right for your vehicle, visit www.airliftcompany.com. Air Lift products can be purchased online and at most truck and SUV aftermarket retailers. To find a retailer in your area, visit Air Lift's dealer locator at www.airliftcompany.com/dealer.
About Air Lift
Air Lift Company, founded in 1949, is a third-generation, family-owned suspension specialty company based in Lansing, Mich. Air Lift is committed to engineering, manufacturing and selling the highest quality suspension product kits that fit, work and last. Air Lift products are available at retailers across the country as well as internationally.
For more information about Air Lift or other products, click here to go to Utility Products' Buyers Guide.