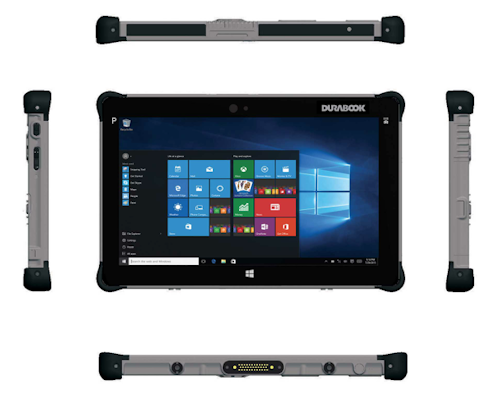 Handheld computer: Windows 10 is here, and many of GammaTech's notebook and tablet computers are eligible for the free upgrade. One such model is the DURABOOK R11 rugged tablet ­ the lightest (2.73 pounds) and thinnest unit in its class. Download Windows 10 today to experience improved performance and new features on the DURABOOK R11 such as Cortana, Microsoft Edge, Windows Hello and new built-in apps, among other great features.

"We are proud to be bringing the upgraded features of Windows 10 to commercial customers," remarked Jen Chen, GammaTech president. "Now workers in the field service, utility, public safety, and other demanding sectors can enjoy improved performance and great new features on the award winning GammaTech notebook and tablet computers."

Windows 10
Performance and reliability are crucial to workers in the utility and public safety sectors. Now with Windows 10, the DURABOOK R11 is faster and more secure than ever, while offering a host of new features including:
• Cortana, the world's first truly personal digital assistant helps you get things done.
• Microsoft Edge, an all-new browser designed to provide a more personal and productive web experience.
• Windows Hello greets you by name and with a smile, letting you log in without a password and providing instant, more secure access to your Windows 10 devices.
• New Photos, Videos, Music, Maps, People, Mail & Calendar apps have updated designs that look and feel familiar from app to app and device to device.
Additionally, Windows 10 includes Windows Defender for free anti-malware protection, and is currently the only platform with a commitment to deliver free ongoing security updates for the supported lifetime of the device.

*Upgrade within one year of availability. See Windows.com/windows10upgrade for offer details.

R11 Rugged Tablet
The R11 is the lightest rugged tablet PC in its class at only 2.73 pounds including battery. It comes with a powerful 4th generation Intel® Haswell Core processor for superb performance. It has an 11.6 in. HD (1366x768) LCD anti-reflective display with a capacitive multi-touch panel, a water-tolerant design and an array of exclusive features and options for customization.

The R11 includes built-in G-sensor, gyroscope sensors, and a light-ambient sensor; M2-SATA SSD 64GB/128GB/256GB storage; a MicroSD card slot that supports SDHC and SDXC; and a front-side, full HD camera as well as an integrated rear-facing 5MP camera.

Additional options for the DURABOOK R11 include an Intel Core processor i7; M2 SSD storage; anti-reflective (AR) and sunlight-readable display; barcode scanner, supporting 1D, 1D/2D barcodes; MSR, smart card, and dual frequency RFID (low 125khz and 13.56mhz) readers; built-in E-compass; Lithium polymer battery; and dual battery charger.

Designed for Demanding Environments
The DURABOOK R11 is endurance tested to withstand the daily wear and tear associated with public safety and utility projects. Its MIL-STD-810G rating assures shock, drop, and vibration protection, as well as the ability to withstand use in a wide range of temperatures. Passage of the strict MIL-STD-461F for electromagnetic compatibility allows the unit to be confidently used in a variety of endeavors including aircraft or space-system applications. Its IP65 rating ensures the unit is sealed tight from damaging water and dust intrusion.

Availability
The DURABOOK R11 tablets, designed for a variety of utility applications, are available through authorized resellers nationwide. As with all GammaTech products, units may be customized for unique customer requirements.

DURABOOK Peace of Mind (POM) No Fault Warranty
All DURABOOK R11 tablets come with a GammaTech three-year Peace of Mind (POM) No Fault Warranty that protects the unit from accidents and mishaps and gives the user more peace of mind. The warranty covers repair or replacement to R11 components that are accidentally damaged or fail electronically. The warranty applies only to the original purchaser and is non-transferable.

About GammaTech Computer Corporation
GammaTech Computer Corporation is a leader in the design, manufacture and sales of cost-effective, high-performance mobile computing solutions throughout North America. Its award-winning line of rugged and hardened notebook and tablet computers are designed and built-to-order to increase mobile productivity for business, government, healthcare, fire, public safety and a host of other entities. GammaTech offers a complete portfolio of products that delivers power and performance needed in the most demanding work environments, resulting in increased productivity and accelerated return on investment. GammaTech is headquartered in Fremont, California, which provides the final assembly, inventory, service and technical support.
For more information about GammaTech or other products, click here to go to Utility Products Buyers Guide.