Work trucks: Air spring kit improves towing safety, driving comfort
Safety products: Air Lift Company's LoadLifter 5000 Ultimate improves towing safety and driving comfort for 2011-2015 Chevy/GMC C/K 3500.
Jun 25th, 2015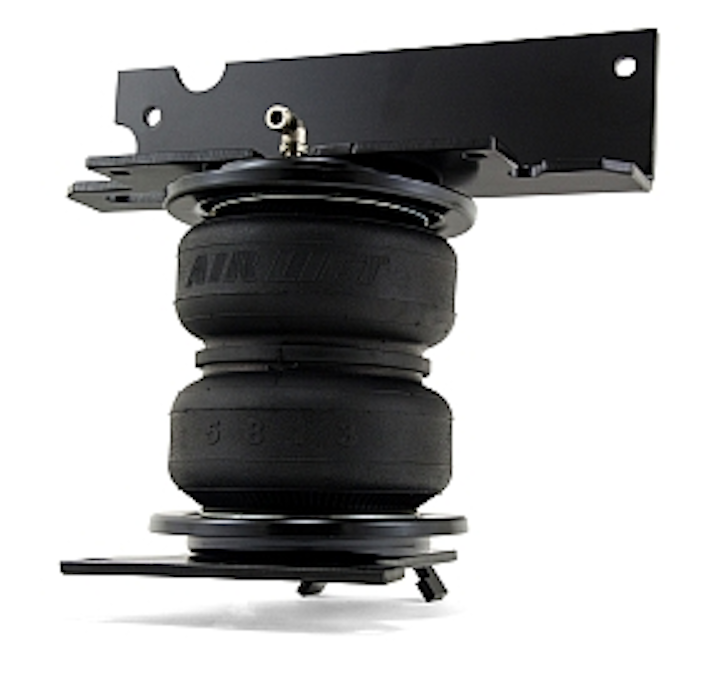 Truck accessory: To provide increased safety and comfort for 2011-2015 Chevy/GMC C/K 3500 (two and four wheel drive) commercial chassis trucks when towing or hauling heavy loads, Air Lift Company offers a new LoadLifter 5000(tm) Ultimate air spring kit. These fully-adjustable air springs help reduce driver fatigue by improving the ride characteristics of a fully-loaded vehicle, working with the existing suspension to deliver up to 5,000 pounds of load-leveling capacity and improved handling.

To effectively absorb shock, the LoadLifter 5000 Ultimate kit features an internal jounce bumper which compresses in stages to protect vehicles during a range of load situations, including unloaded, heavily loaded or under full compression. Virtually maintenance free and easy to install with common hand tools in about three hours or less, Air Lift's LoadLifter 5000 Ultimate air spring kit provides a cushion of air that protects vehicles with heavy loads and eliminates sagging and harsh bottoming out.

For convenient air spring inflation and deflation, Air Lift offers wired, wireless and automatic on-board air compressor systems to provide one-touch or hands-free control of the air springs from inside or outside the vehicle.

This new LoadLifter 5000 Ultimate air spring kit (#88339) as well as other Air Lift air springs and related products can be purchased at most truck accessory retailers and online outlets. To find a retailer in your area, visit Air Lift's dealer locator at www.airliftcompany.com/dealer.

All Air Lift air spring kits are backed by an industry-exclusive lifetime warranty that covers the entire contents of the kit. The company also ensures satisfaction with a 60-day money back guarantee on load support air springs and on-board compressor systems.
About Air Lift
Air Lift Company, founded in 1949, is a third-generation, family-owned suspension specialty company based in Lansing, Mich. Air Lift is committed to engineering, manufacturing and selling the highest quality suspension products that fit, work and last. Air Lift products are available at retailers across the country as well as internationally.
For more information about Air Lift or other products, click here to go to Utility Products' Buyers Guide.