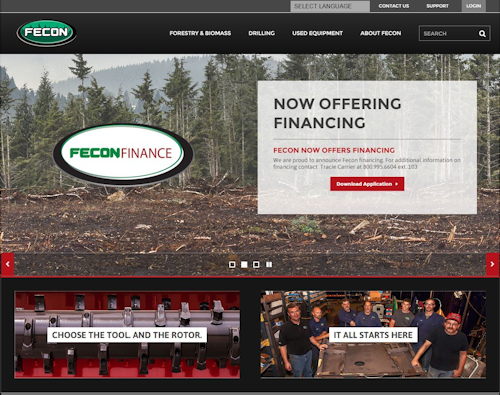 Construction equipment: Fecon® Inc. announces the availability of equipment financing through Fecon Finance. Fecon will offer financing on their industry leading FTX Tracked Carrier line, Rubber Tire Tractors and all Forestry Attachments. Featured options will be 100% financing and flexible payments and terms.
According to Fecon's partner, Bob Rinaldi, CEO of Commercial Industrial Finance, "It's especially gratifying to develop a sales-aid finance program with Fecon, a local business that manufactures their products right here in the US and sells them throughout the world. Together, we are equipping their customers' businesses for success by providing them much needed business capital."
About Fecon
For over 20 years, we've built a reputation of building the most durable mulching head on the market. And that no-compromise approach extends into each of our product lines. When you experience the Fecon difference, you'll know it. Fecon equips its customers with heavy and severe-duty equipment and industry-leading support-after-the-sale. By providing the highest value products and superior service, Fecon forges lasting relationships with our customers. Why Fecon? Because we help you clear the way to a job well done!
For more information about Fecon or other products, click here to go to Utility Products' Buyers Guide.