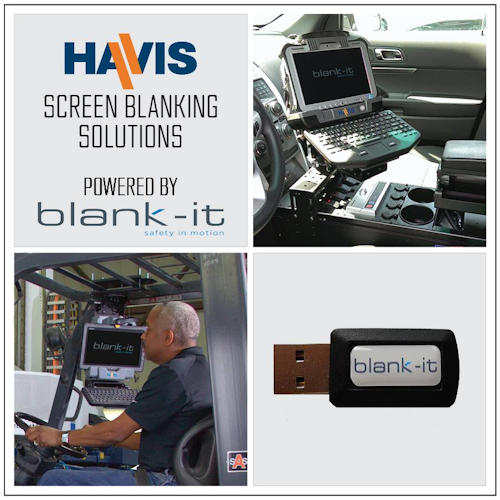 Fleet management:Havis Inc., an ISO 9001:2008-certified company, is offering Screen Blanking Solutions powered by Blank-It to reduce driver distraction and improve road safety. Havis' Screen Blanking Solutions provide easy, safe and legally compliant ways to manage in-vehicle computer displays and prevent driver distraction. Blank-it is a combination of a multi-sensor, rugged USB and intelligent modular software technology. Once activated, the motion sensor technology recognizes a vehicle's mobility and limits the display's functionality, reducing visual, cognitive and physical distractions.
In 2013, distracted driving caused more than 3,100 deaths, 424,000 injuries and more than 616,000 damaged vehicles, according to the National Highway Traffic Safety Administration (NHTSA). In addition to the human cost, on-the-job crashes cost employers more than $24,500 per crash, $128,000 per injury and $3.8 million per fatality, according to NHTSA.
"Distracted driving costs the nation thousands of lives and billions of dollars each year," said Sam Barall, National Sales Manager, Enterprise at Havis Inc. "Whether used on the road, in the field or in a warehouse, screen blanking can help to keep drivers safe and prevent vehicle damages while meeting regulations governing display equipment in work vehicles."
Blank-It's password-protected administration interface allows companies to determine the level of screen functionality for a fleet of any size, with options including passenger-only viewing, privacy screen, keyboard/mouse disabler, GPS override and voice command, with additional features in development. Easy to install, Blank-It can be embedded in a docking station or secured in a customized Havis Tamper Proof Cover without drilling or hardwiring. The technology operates without the need for antennas, power sources, GPS or third-party applications. Blank-It software is compatible with Windows XP (SP3), Vista, 7 and 10.
For more information on Havis' Screen Blanking Solutions powered by Blank-It, visit http://customers.havis.com/index.php/product-news/screen-blanking or contact your Havis representative.
About Havis
Havis Inc. is a privately held, ISO 9001:2008-certified company that manufactures in-vehicle mobile office solutions for public safety, public works, government agencies and mobile professionals. For more than 80 years, the Havis mission has been to increase mobile worker productivity with industry-leading products that are built to the highest safety and quality standards and are designed with comfort in mind. With headquarters in Warminster, Pa. and an additional location in Plymouth, Mich., Havis currently employs 250 people.
For more information about Havis or other products, click here to go toUtility Products' Buyers Guide.