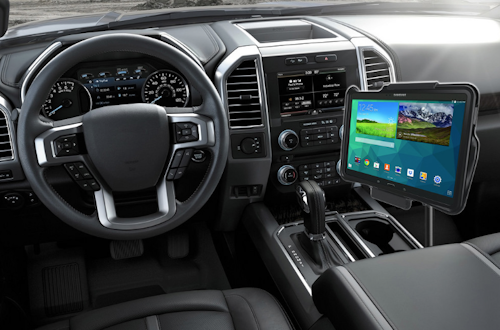 Vehicle docking station: RAM Mounting Systems announces IntelliSkin(TM), a protective device case that simplifies the frequent docking and undocking of smartphones and tablets common in utility, construction and government infrastructure applications. IntelliSkin provides standard charging contacts to prevent damage to Samsung phones and tablets in rugged transportation and work use environments.

IntelliSkin features an integrated power connector compatible with any GDS(TM) charging dock. This prevents damage to the device charging port and creates a universal docking system compatible with any device wrapped with an IntelliSkin case.

"We are excited to work with Samsung to bring popular mobile devices to vocational applications including utility, waste, concrete and demolition work truck use," stated Aaron Hersey, vice president of sales and marketing at RAM Mounting Systems. "IntelliSkin with GDS docking technology makes it possible to use smartphones and tablets with fewer concerns in rugged environments where devices are moved frequently among trucks, equipment and offices."

GDS stands for Global Docking System technology. GDS sets a new standard by creating a uniform platform for connecting a variety of portable devices with power and data communication. RAM Mounts' GDS platform provides compatibility with many different devices. Plus, it offers docking stations with scalability as smartphone and tablet manufacturers introduce new generations of devices. Vocational use applications of IntelliSkin with GDS include fleet hours-of-service, trip inspections, two-way communication, navigation, equipment inspections, project management and more, Hersey said.

"The problem with typical mounting and charging systems for consumer technology devices is the speed of innovation and the variety of different options available," said Hersey. "With the GDS platform, all charging and docking is standardized. When upgrading to a new device with different charging ports, businesses only need to change the IntelliSkin case."

In addition to cross-compatibility for charging and data exchange, GDS docking stations allow access to keyboards, monitors, speakers, hard drives and other USB devices by plugging in a connectivity hub to the back of the dock. A variety of GDS docks are available for desk, multiple device charging, vehicle and device locking applications. This provides the flexibility to utilize and dock devices wherever information is needed. The uniform, rugged docking contacts on the bottom of the IntelliSkin case connect for easy docking, eliminating the possibility of charging port damage.

"As organizations follow bring-your-own-device (BYOD) and company-owned-personally-enabled (COPE) technology strategies, enabling these somewhat delicate devices for heavy use is imperative to ensure their long useful life," said Hersey. "With a variety of device ports and charging cables on the market, unifying an organization with one rugged charging platform increases both efficiency and mobility."

IntelliSkin cases are currently available for the Samsung Galaxy S5 and S6, Tab S 8.4 and 10.5, Galaxy Tab 4 7.0 and 10.1, Galaxy Tab A 8.0 and 9.7, and Galaxy Tab Active 8.0. RAM Mounts plans to develop more cases to expand the line in the future.

"This is just the beginning. We believe the GDS platform will become a standard for solving the problem of device compatibility across a broad range of markets including fleet transportation, service industries, government and education," said Hersey.

About RAM Mounting Systems
RAM Mounting Systems is a division of National Products, Inc. (NPI). NPI manufactures a wide selection of mounting solutions that enables the use of mobile devices including phones, tablets, cameras, GPS units and telematics systems. NPI offices and manufacturing facilities are located in Seattle, WA. The company offers a diverse set of manufacturing capabilities which results in the ability to efficiently manufacture quality products in the USA. In-house design staff and rapid prototyping capabilities help NPI quickly engineer and produce quality items for the ever changing electronics market. With rubber injection, sand casting, metal fabrication, and composite injection molding as well as a die casting facility, NPI has become the leading commercial electronics mounting provider in the world.
For more information about RAM Mounting Systems or other products, click here to go to Utility Products' Buyers Guide.