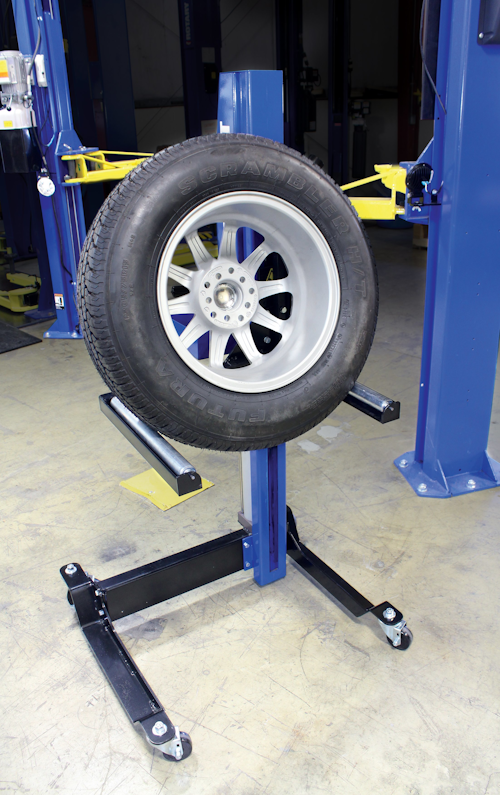 Vehicle maintenance: Since no piece of vehicle service equipment is used on a daily basis more frequently than a vehicle lift, proper lift safety practices are crucial. That's why Rotary Lift, North America's largest lift manufacturer, has put together a list of essential safety tips for lift buyers and operators.

"Rotary Lift was established in 1925 after our founder, Peter Lunati, invented the modern hydraulic vehicle lift," says David Fischmer, marketing director for Rotary Lift parent company Vehicle Service Group (VSG). "With 90 years of experience under our collective belt, we know a lot about lift safety. So to help our customers maximize their lift performance while staying safe, we've put together these top 10 lift safety tips."

1. Take ALI's online Lifting It Right course. Once purchased at www.autolift.org/ali-store/, technicians can complete this valuable lift safety training class online at any time within 90 days.

2. Train every technician on the proper operation of all the lifts in your facility.

3. Perform daily safety inspections before using any lift.

4. Have your lifts inspected annually by an ALI Certified Lift Inspector. Find a local inspector: www.autolift.org/find-a-certified-auto-lift-inspector.

5. When buying a new lift, always look for the gold ALI lift certification label. It¹s proof that the lift has been independently tested and ALI certified to meet industry safety and performance standards.

6. Make sure the lift's locks are engaged before starting vehicle service.

7. Always match the vehicle and job to be performed with the appropriate lift.

8. Use jack stands when removing heavy components. Removing heavy parts can cause the vehicle¹s center of gravity to shift and may make it unstable.

9. Use a wheel lift to prevent back strain when removing and installing heavy wheels.

10. Insist on OEM replacement parts when maintaining your lift.
About Rotary Lift

Rotary Lift is the leading brand of vehicle lifts designed to increase technician productivity. Celebrating 90 years in 2015, Rotary Lift was founded in 1925 by the inventor of the first automotive hydraulic lift and now offers the broadest line of lifts for use in professional automotive service, commercial truck and transit applications. There are more Rotary Lift products used in vehicle repair facilities around the world than any other brand.

Rotary Lift is a Vehicle Service Group (VSG) brand. VSG comprises nine global vehicle lifting and collision repair brands: Rotary Lift, Chief®, Forward® Lift, Direct-Lift®, Hanmecson®, Revolution® Lift, Elektron, Blitz® and nogra®. With its American headquarters in Madison, Indiana, VSG has operations worldwide, including ISO 9001-certified manufacturing centers in the U.S., Europe and Asia. VSG is part of the Engineered Systems segment of Dover Corporation, a multi-billion-dollar, global producer of innovative equipment, specialty systems and value-added services. Rotary Lift is a GSA contract holder, GSA contract #GS-07F-8953D (Dover Industries, Inc., DBA Rotary Lift). Rotary Lift products are also available through a number of other government procurement programs, including NJPA, HGACBuy, CMAS, TXMAS and KCRPC.

For more information about Rotary Lift or other products, click here to go to Utility Products' Buyers Guide.