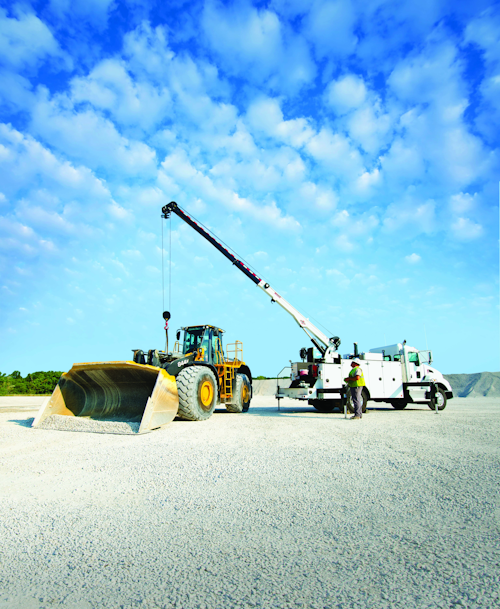 Construction equipment: Iowa Mold Tooling Co. Inc. (IMT), an Oshkosh Corporation company and manufacturer of service vehicles, truck-mounted cranes, hydraulic loaders and air compressors, announces the Dominator® III mechanics body. The new body design accommodates the IMT model 12000 telescopic crane without a front stabilizer for customers that do not require 100 percent lift capacity in all load zones.
"Since its release, the IMT Dominator III mechanics truck has been serving a unique niche customer with mid-range lifting needs," said Jim Hasty, IMT general manager. "Our new body design is the result of listening to our customers' needs, and demonstrates our unyielding commitment to providing reliable and durable products that help them get their work done."
The new Dominator III body will be available in both 11- and 14-foot lengths, replacing the existing 13-foot version. With two side pack configurations for each body length — a right front raised with the left side all raised and an all raised version — customers have four configuration options to choose from.
The Dominator III model is designed for customers who need more lifting capacity than the Dominator II vehicle's 10,000-pound maximum, but do not require the 14,000-pound capacity of the Dominator IV mechanics truck. Designed specifically to support the IMT 12000 telescopic crane, which provides up to 30 feet of reach and a Penta Boom™ design. With a flat top that eliminates stress concentrations inherent with certain boom designs and a half hex that controls tracking at long reaches, the innovative five-sided boom offers premium strength and durability.
Standard features of the IMT 12000 telescopic crane include:
• Ten degrees of negative boom angle, providing added versatility and allowing the crane to be reached more easily from ground level
• A fully proportional piston grip radio remote control offering traditional fit and operation
• LED overload indicator lights on the remote control handle that alert the operator when the crane is approaching overload condition and in overload
• A flip sheave boom tip for added lift height in tight quarters
• A planetary winch that allows for faster hoisting and lowering speeds and smoother overall operation
• Patented boom hook stow that allows the boom hook to be stowed more easily and faster
The Dominator III model features excellent accessibility to tools — without losing any storage — by providing front vertical compartments with single doors. IMT also incorporated the patented shelf hanger bracket system that enables quick adjustments of compartment shelves.
In addition, the truck features the new enhancements to the Dominator family:
• A energy absorbing boom stow that protects the top of the body compartments from damage if too much pressure is exerted from stowing the crane
• High-intensity LED compartment lighting
• A multiplex electrical system with programmable logic for increased reliability
The new Dominator III mechanic bodies are available for order now and are currently planned to being shipping in December 2015.
About IMT
Iowa Mold Tooling Co., Inc., an Oshkosh Corporation [NYSE: OSK] company, began in 1961 as a business providing new tread designs for recapping tires. The company has grown to become the leading manufacturer and supplier of service vehicles, cranes, hydraulic loaders and air compressors for tire, mining, construction, material handling and utility markets around the world.
About Oshkosh Corporation
Oshkosh Corporation is a leading designer, manufacturer and marketer of a broad range of access equipment, commercial, fire & emergency, military and specialty vehicles and vehicle bodies. Oshkosh Corporation manufactures, distributes and services products under the brands of Oshkosh®, JLG®, Pierce®, McNeilus®, Jerr-Dan®, Frontline™, CON-E-CO®, London® and IMT®. Oshkosh products are valued worldwide by rental companies, concrete placement and refuse businesses, fire & emergency departments, municipal and airport services and defense forces, where high quality, superior performance, rugged reliability and long-term value are paramount.
For more information about IMT or other products, click here to go to Utility Products' Buyers Guide.