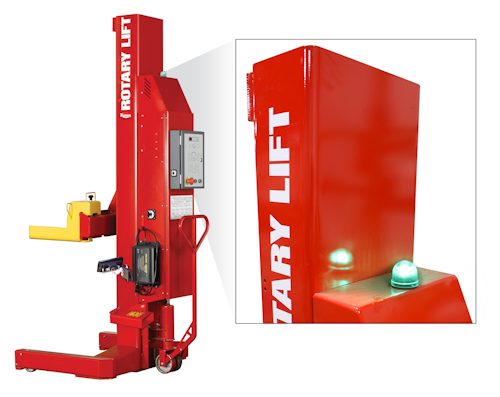 Vehicle lifts: Rotary Lift's patent-pending LockLight technology is now available for its Mach Series mobile column lifts, making it easier for fleet technicians, supervisors and health/safety inspectors to see at a glance if a lift is secure on its locks.

Every time a technician raises a vehicle for service on a lift designed with a load-holding lock device, standard industry safety practices require that the lift be "lowered to locks" before starting work. To do this, the vehicle is raised just past working height and then slightly lowered until the mechanical lift locks engage. This process relieves the lift's hydraulic pressure and places the load of the vehicle securely on the lift's mechanical latches, reducing the chance that the vehicle will freefall if the lift's hydraulic system fails.

Introduced for light-duty vehicle lifts earlier this year, the Rotary Lift LockLight device mounts directly to a lift and shines a green light when it detects the lift's hydraulic pressure has been relieved. The light indicates that the lift is resting on its locks and work can proceed. Without LockLight, the only way to tell if a lift is on its locks is to press the "down" button ­ if the lift moves, its locks are not engaged.

"During an inspection, health and safety officials can cite a facility for a lift in use that has not been lowered onto its mechanical locks," says Doug Spiller, heavy-duty product manager for Rotary Lift. "LockLight is the only product that provides a clear visual indicator that a raised lift is properly resting on its locks. This helps technicians get into the habit of always lowering their Mach Series lifts to the locks, and it provides peace of mind for fleet maintenance managers."

The new Mach Series LockLight features a light that is more than twice as large as Rotary Lift's light-duty LockLight accessory, providing enhanced visibility across large fleet facilities. The light mounts to the top of a Mach Series column's battery compartment, where it is visible from 180 degrees around the column. Mach Series mobile column lifts with LockLight accessories installed have been third-party tested and Automotive Lift Institute (ALI) certified to meet ANSI lift safety and performance standards.

Two versions of the LockLight kit are available, making it possible to retrofit any Mach Series mobile column lift. The first version (P/N M140112) works with standard Mach Series columns, while the second version (P/N M140115) works with columns that are already equipped with optional pressure gauges.
About Rotary Lift

Rotary Lift is the leading brand of vehicle lifts designed to increase technician productivity. Celebrating 90 years in 2015, Rotary Lift was founded in 1925 by the inventor of the first automotive hydraulic lift and now offers the broadest line of lifts for use in professional automotive service, commercial truck and transit applications. There are more Rotary Lift products used in vehicle repair facilities around the world than any other brand.

Rotary Lift is a Vehicle Service Group (VSG) brand. VSG comprises nine global vehicle lifting and collision repair brands: Rotary Lift, Chief® Automotive Technologies, Forward® Lift, Direct-Lift®, Hanmecson®, Revolution® Lift, Elektron, Blitz® and nogra®. With its American headquarters in Madison, Indiana, VSG has operations worldwide, including ISO 9001-certified manufacturing centers in the U.S., Europe and Asia. VSG is part of the Engineered Systems segment of Dover Corporation, a multi-billion-dollar, global producer of innovative equipment, specialty systems and value-added services. Rotary Lift is a GSA contract holder, GSA contract #GS-07F-8953D (Dover Industries, Inc., DBA Rotary Lift). Rotary Lift products are also available through a number of other government procurement programs, including NJPA, HGACBuy, CMAS, TXMAS, KCRPC and OGS.

For more information about Rotary Lift or other products, click here to go to Utility Products' Buyers Guide.