Reducing Outages Through Improved Prediction, Management and Real-time Mobile Data Access
Outages, especially those caused by weather events, continue to pose significant problems for utilities including decreased customer satisfaction and reduced income.
Jul 2nd, 2015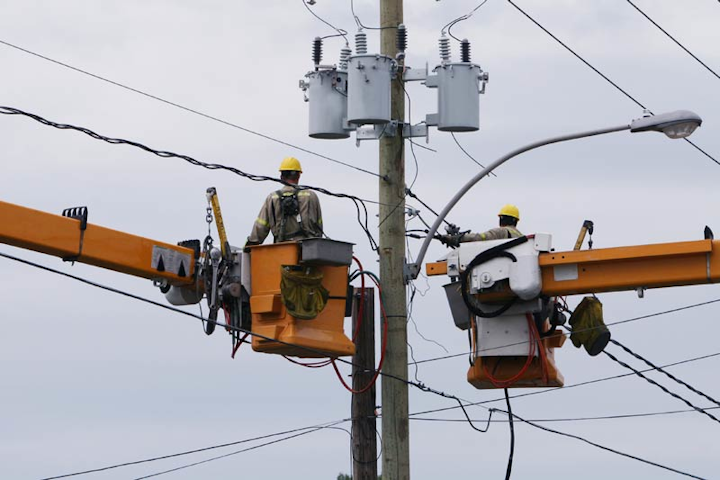 By John Dirkman
Outages, especially those caused by weather events, continue to pose significant problems for utilities including decreased customer satisfaction and reduced income. Per the President's Council of Economic Advisers and the U.S. Department of Energy's Office of Electricity Delivery and Energy Reliability, weather-based outages cost the US economy between $10-$75 billion per year. More than 75 percent of reported power disruptions between 1992 and 2010 were caused by weather-related events, per Even Mills and Lawrence Berkeley National Laboratory studies, and those events caused average outage durations of some 240 minutes per customer served in the USA according to a report published by the Council of European Energy Regulators.
As stark as these statistics are, however, there are a number of mitigative steps proactive electric utilities can take to better predict, prepare for, manage, resolve and report on outages.
Prediction
From a systems perspective, an Advanced Distribution Management System (ADMS)--a convergence of Distribution Management System (DMS), Outage Management System (OMS), Energy Management System (EMS), and Supervisory Control and Data Acquisition (SCADA) applications--provides the ideal solution for minimizing outage impacts. It provides access to real-time operational data and the analytical capability that brings outage management to the next level. When integrated with an accurate weather forecasting system, utilities can clearly visualize the impacts of weather events on their distribution and transmission networks and predict which assets will be impacted and the timing and duration of those impacts.
Preparation
Based on predictive data, utilities can implement a number of steps to best prepare for outage events. They can conduct preemptive switching to move supply to feeders less likely to be impacted. They can also preposition their crews as well as request mutual assistance from neighboring utilities' crews. To even better prepare, utilities can use historical data in ADMS for dispatcher and crew training purposes. They can also use applications in ADMS to determine proactive placement of protective equipment such as sectionalizers and reclosers to reduce outages on the most outage-prone feeders. In addition, utilities can ensure assets such as portable generators, energy storage systems, distributed energy resources and microgrids are able to discharge and backfeed critical loads if there is an interruption to power supply.
Management and Resolution
During outages, utilities are inundated with large volumes of data from information sources such as customer calls and notifications, AMI, SCADA or a combination thereof. An ADMS-based OMS can manage this data and provide rapid and reliable determination of opened protective devices as well as fault locations, typically through a combination of OMS predictive algorithms based on reported outages, ADMS Fault Location, Isolation and Supply Restoration (FLISR) applications and crew-based damage assessments.
ADMS-based outage management can be subdivided into four main components: incident management, crew management, fault management and switching management, all of which are enabled through mobile applications.
• Incident Management
Incident management assists dispatchers and system operators in efficient management of outages, as well as non-outage problems and other planned work. Incident management tracks information about power disturbances in the network, predicts tripped devices and organizes response to the disturbance through user-friendly, efficient and safe workflows. Customer management and call management are typically components of incident management. Through incident management, users can review and browse relevant incident information, including registered problems, predicted devices, related switching steps, location information, assigned crews, resolution information and lists of calls and customers related to the incident.
• Crew Management
Crew management manages and stores information on crews, members, vehicles, and their respective types, statuses and availability. Crew assignment is used to manage crews assigned for switching management and outage management activities, tracking information about the assignment priority and individual assignment statuses. Switching management works with crew management through assigning a crew to perform an operation, either as a part of a switching plan, work order or other event where crew intervention is required. Incident management also works with crew management for assignment of crews to perform operations as a part of a utility's reaction to an unplanned outage or hazardous situation. ADMS optimizes crew management through GPS-based automatic vehicle location systems, crew and equipment monitoring functions, and efficient truck routing algorithms. Properly implemented, crew management can provide significant cost savings to utilities and decrease restoration time.
• Fault Management Through FLISR
The FLISR application provides the optimal plan of control actions for faults on a distribution network feeder to detect, locate and isolate faults and return supply to the unaffected part of the faulted feeder. Through FLISR, it is possible to more efficiently use equipment and crews to minimize the duration of the outage and undelivered energy and thus improve reliability.
• Switching Management
Switching management manages procedures and activities related to planned and unplanned work in distribution grids. It provides a formal process for requesting and performing switching changes on a power grid for the purposes of maintenance, network reconfiguration and outage restoration. Safety validations are enforced to guarantee the safety of field crews while the work is in progress. Switching management enhances a control room operator's ability to be effective and to operate the network safely, coordinating work requests, switching plans and safety documents. Switch order creation and validation can also be automated to an extent, making system operators' decisions easier, faster and safer.
• Mobile Applications
OMS mobile applications provide utility field crews with access to work requests, switching plans, incidents and safety documents. Mobile applications can allow users to view, search and navigate the network, view realtime network information, as well as perform operations including damage assessment, planned switching and incident response. Mobile applications greatly improve coordination and synchronize communications between the control room and field crews.
Reporting
ADMS-based OMS reporting functions include dashboards for internal utility use providing active and historical outage information and methods for calculation of reliability indices including system-wide and per customer interruption duration and frequency. In addition, utilities can enable customer interaction and provide outage information through customer-facing Web pages; smart phone applications; and notifications through phone, email, text or social media, depending on a customer's preferences.
Benefits
A properly implemented ADMS-based OMS offers many benefits to utilities. Typical benefits include increased service reliability, where experience has shown average outage durations reduced by up to 60 minutes using more accurate prediction of incident locations and identification of nested incidents. Operating costs of preparing switch orders is greatly reduced; utilities often see a 75 percent reduction in time required to prepare and validate safe switch orders, especially over traditional paper-based processes. By routing the proper crews to accurate and prioritized incident locations and avoiding repeat visits and invalid incidents, utilities can see an operational costs savings of some 15 percent to 25 percent. Mobile applications also offer significant benefits, with typically about a 25 percent reduction in crew time obtaining and executing work orders in addition to greatly improved communications and safety.
None of these benefits can be properly realized without a utility working with system providers to undergo a thorough analysis of current and new business processes and properly implementing change management practices.
An ADMS-based OMS integrated with an accurate weather forecasting system can vastly improve your utility's ability to predict, prepare for, manage, resolve and report outages. It can also serve as a foundation for additional advanced ADMS applications, empowering your utility for a brighter smart grid.
About the author: John Dirkman P.E., Sr. Product Manager, Smart Grid Global for Schneider Electric, provides product and program management for advanced integrated smart grid systems from concept through sales, design, development, implementation and maintenance. He is responsible for driving Schneider Electric's technical smart grid vision and strategy, and ensuring product success in the marketplace. Dirkman has been with Schneider Electric since 2002 and has served as product and program manager for a wide variety of smart grid implementations.
For more information about Schneider Electric or other products, click here to go to Utility Products' Buyers Guide.