Construction equipment from Doosan
Line construction: New wedge lock clamps expand Doosan attachment offering, increase excavator versatility.
Apr 14th, 2015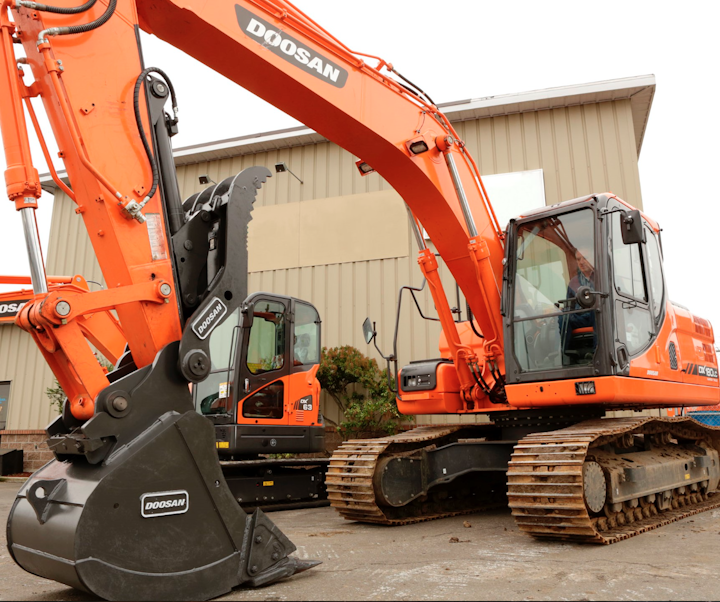 Transmission line construction: Doosan has expanded the versatility of its excavators with the addition of eight main pin clamps and seven pro-link wedge lock clamps that are compatible with wedge lock attachments. The new Doosan clamp attachments are compatible with the wedge lock buckets and quick couplers, and give more flexibility to operators who use the wedge lock couplers.
The new Doosan clamp attachments work with multiple bucket widths ranging from 24 to 60 inches, depending on the clamp type, to help maintain the load when operating Doosan DX63-3 to DX255LC-5 excavators.
The hydraulic and pro-link wedge lock clamps have the same characteristics as the non-wedge lock style clamp, enabling precise movement and positioning. When not in use, the clamps retract, making the attachments excellent for demolition, site preparation and land-clearing applications.
ABOUT DOOSAN INFRACORE CONSTRUCTION EQUIPMENT AMERICA
Doosan Infracore Construction Equipment America, headquartered in West Fargo, North Dakota, markets the Doosan brand of products that includes large excavators, wheel loaders and articulated dump trucks. With more than 160 heavy equipment dealer locations in North America, Doosan is known for an unmatched dedication to service and customer uptime, and durable, reliable products. Doosan is fast becoming a global force in heavy construction equipment. Doosan Infracore Construction Equipment America is a subsidiary of Doosan Infracore Bobcat Holdings Co., Ltd., a wholly owned subsidiary of Doosan Infracore Co., Ltd.
For more information about Doosan or other products, click here to go to Utility Products' Buyers Guide.