Construction equipment: Large capacity ditching buckets from Doosan
Utility equipment: Doosan offers new heavy-duty ditching buckets with larger capacities than standard buckets.
Apr 16th, 2015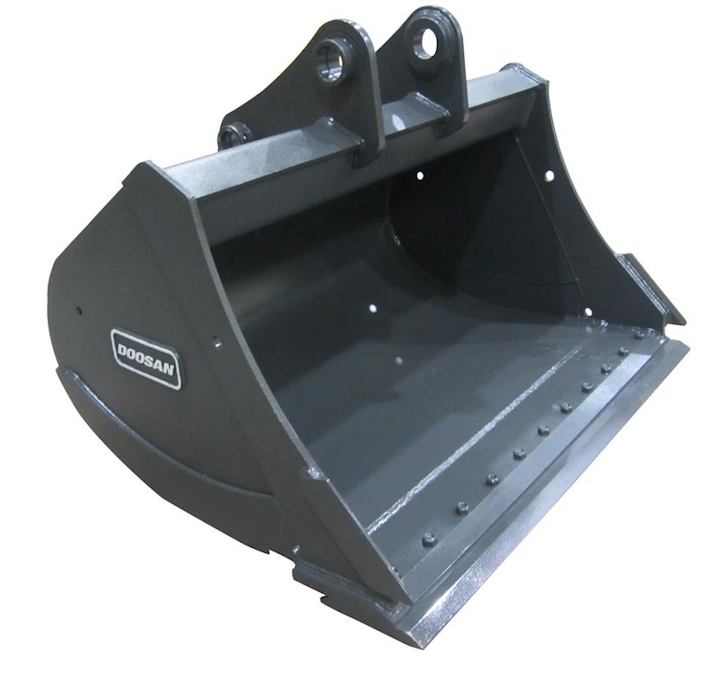 Construction projects: Customers needing a bucket to more efficiently complete a variety of excavating and grading projects can now depend on new Doosan heavy-duty ditching buckets. The heavy-duty ditching buckets are available on all Doosan crawler excavators, ranging from the DX140LC-3 through the DX530LC-5 models.
The heavy-duty ditching bucket's deep profile provides Doosan excavator operators with smooth operation and optimal versatility when loading material, grading, backfilling, cleaning ditches for improved drainage and working on slopes.
Bucket improvements
The Doosan heavy-duty ditching buckets have the same profile but are wider than the standard Doosan digging buckets. Additionally, the heavy-duty ditching buckets do not have the internal center gussets found on some ditching buckets. This design gives a larger capacity than the current ditching bucket and allows for more material to be moved in one cycle of the excavator work group.
Some other standard features include a lift eye for lifting applications, weld-on side cutters and reversible bolt-on cutting edge to leave a smooth work area when the job is completed. Note: the approval of the new heavy-duty ditching buckets is based on its designed use, not material capacity.
Pin-on or wedge-lock options
Altogether there are 13 Doosan heavy-duty ditching buckets available. These buckets are available as pin-on buckets or can be ordered to fit hydraulic or wedge-lock quick couplers, depending on customer needs or preference.
ABOUT DOOSAN INFRACORE CONSTRUCTION EQUIPMENT AMERICA
Doosan Infracore Construction Equipment America, headquartered in West Fargo, North Dakota, markets the Doosan brand of products that includes large excavators, wheel loaders and articulated dump trucks. With more than 160 heavy equipment dealer locations in North America, Doosan is known for an unmatched dedication to service and customer uptime, and durable, reliable products. Doosan is fast becoming a global force in heavy construction equipment. Doosan Infracore Construction Equipment America is a subsidiary of Doosan Infracore Bobcat Holdings Co., Ltd., a wholly owned subsidiary of Doosan Infracore Co., Ltd.
For more information about Doosan or other products, click here to go to Utility Products' Buyers Guide.