Handheld computers are rugged
Mobile computers: Juniper Systems to carry Cedar Tree Android rugged handhelds.
May 22nd, 2015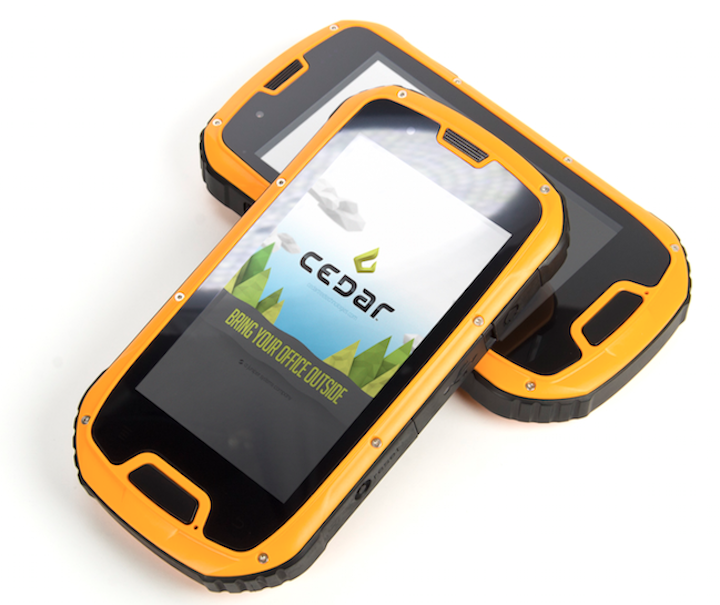 Rugged computers: Juniper Systems recently announced the merger of its subsidiary company, Cedar Tree Technologies, into Juniper Systems. This move will allow customers to purchase Cedar's Android-operated rugged handhelds directly from Juniper Systems.
With a reputation for top-of-the-line, ultra-rugged handheld computers, Juniper Systems aimed to expand its products to meet the needs of customers who may not need the outstanding level of ruggedness or support that Juniper handhelds provide. And that's how Cedar Tree Technologies began. Cedar handhelds lie somewhere between consumer devices and Juniper Systems' ultra-rugged handhelds, providing a mesh of both ruggedness and affordability.
Cedar handhelds run on the Android operating system, offering access to thousands of business-ready apps and Google services via the Google Play Store. This provides users with an off-the-shelf product, eliminating the need to download third-party data collection software. Juniper Systems has published a blog post that outlines the differences between Cedar and Juniper handhelds here: http://bit.ly/1JI2NDp.
The Cedar product line that Juniper Systems will now be carrying includes three new handheld devices: the CT7 Rugged Tablet, the CT4 Rugged Handheld, and the CMP1 Miniphone. Featuring a large, 7-inch display, the CT7 tablet is IP67 waterproof and dustproof. The CT4 handheld is a more compact device, featuring a 4.3-inch display, IP68 waterproof and dustproof rating. The CMP1 Miniphone is rated IP65 (dustproof and resistant to water), and is ideal for swapping out a regular smartphone for outdoor excursions, for kids, or for use as an emergency phone.
About Juniper Systems:
Based out of Logan, UT, USA and Birmingham, UK, Juniper Systems designs and manufactures rugged handheld computers and provides field data collection solutions for use in extreme environments. Since 1993, Juniper Systems has provided innovative mobile technology to natural resources, utilities and public services, geomatics, agriculture, industrial, and military markets.
For more information about Juniper Systems or other products, click here to go to Utility Products' Buyers Guide.