Transmission line construction: Horizontal directional drill from Toro
Utility line construction: Toro DD2024 horizontal directional drill offers powerful performance in a compact size.
May 15th, 2015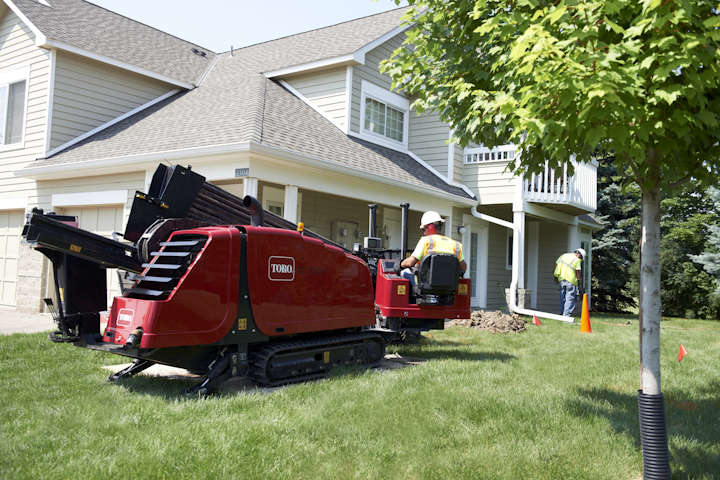 Line construction: The new Toro® DD2024 horizontal directional drill combines a compact design with 20,000 lbs of pullback force and 2,400 ft-lbs of rotary torque. Powered by a 74-horsepower Cummins® B3.3 turbocharged diesel engine, the DD2024 delivers consistent and reliable performance in all operating conditions. Its quad rack and pinion carrier design spreads the load evenly for smooth and stable movement. The onboard mud pump flows up to 30 gallons per minute and the floating carriage has two speeds, including a 120 ft/min fast mode.
"Toro is committed to building quality equipment," says Josh Beddow, product marketing manager for Toro underground equipment. "Contractors will be impressed with the performance of the Toro DD2024. We've made significant investments in development of our underground equipment, as well as in our service team and dealer network to serve the unique needs of contractors working in this industry."
The DD2024 is designed for powerful performance in tight working conditions. It has a footprint of 52 inches wide, 207 inches long, and a height of 74 inches. It has forward-mounted track drive motors with planetary gear reduction to provide superior traction in all types of ground conditions. The rear dual stabilizers can be independently adjusted to safely secure the unit during operation. For operator safety, the DD2024 uses a remote exit side lock out system and a Zap Alert™ system to notify the operator in the event of an electric line strike.
With flexibility to use single or dual stick controls while drilling, the DD2024 allows the operator to choose the control style that matches his or her preference. The operator station includes a backlit LCD screen that monitors a full range of system functions. Service is also easy with single-piece front and rear hoods that offer unobstructed access.
About The Toro Company
The Toro Company (NYSE: TTC) is a leading worldwide provider of innovative solutions for the outdoor environment including turf, snow and ground engaging equipment, and irrigation and outdoor lighting solutions. With sales of $2.2 billion in fiscal 2014, Toro's global presence extends to more than 90 countries. Through constant innovation and caring relationships built on trust and integrity, Toro and its family of brands have built a legacy of excellence by helping customers care for golf courses, landscapes, sports fields, public green spaces, commercial and residential properties and agricultural fields.
For more information about Toro or other products, click here to go to Utility Products Buyers Guide.