Fleet maintenance: Wireless mobile column lifts from Rotary Lift
Vehicle Lifts: Learn How to Improve Shop Productivity with Rotary Lift Mobile Column Lifts at TMC, Work Truck Show and Mid-America Trucking Show
Feb 11th, 2015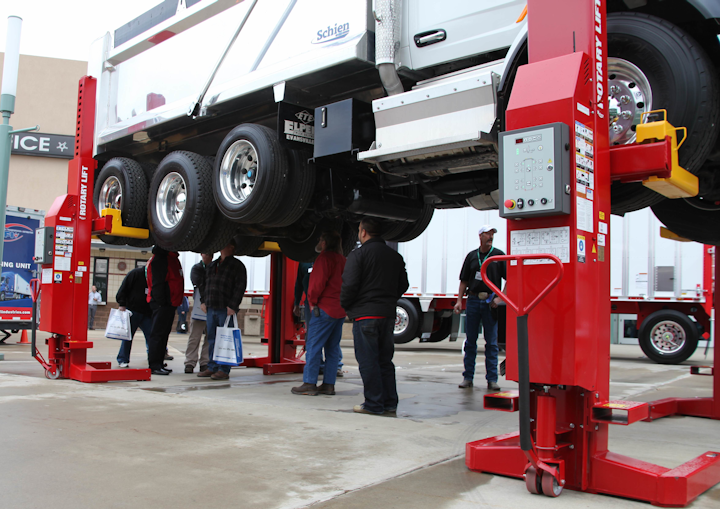 Lift inspection: Truck fleet managers can see firsthand the productivity benefits Rotary Lift wireless mobile column lifts offer at upcoming truck shows. Three of the truck industry's largest annual shows will be held over the next two months, and Rotary Lift representatives will be available at each to discuss the best vehicle lifting options for attendees.

The 2015 truck tradeshow season begins with the TMC Annual Meeting & Transportation Technology Exhibition, Feb. 16-19 at Music City Center in Nashville, Tenn. Rotary Lift booth #2532 will feature a video display highlighting its timesaving Mach Series mobile column lifts. Rotary Lift Mach Series lifts feature the fastest rise and descent and setup times, so technicians spend less time waiting for the lift before getting to work. Patented, intuitive controls are located on each column, so the technician can operate the lift from whichever corner of the vehicle is most convenient.

Mach Series mobile column lifts are battery-operated and available with capacities of 13,000 lbs. or 18,000 lbs. per column. They can be ordered in sets of two, four, six or eight columns, so customers can buy the right amount of capacity for the vehicles they service.

At The Work Truck Show 2015, March 4-6 at the Indiana Convention Center in Indianapolis, Ind., attendees can see a set of four 18,000 lb. capacity Mach Series mobile columns in use in Rotary Lift booth #5575. The Mach Series lift on display will be equipped with Rotary Lift's wireless communications option (lift model MCHW418), which eliminates bulky communications cables, providing a completely clear floor under and around the vehicle. This makes it easier to walk and move tool carts around the service bay. The wireless option also reduces setup time.

Rotary Lift's wireless Mach Series mobile column lift will also be on display at the Mid-America Trucking Show, March 26-28 at the Kentucky Expo Center in Louisville, Ky. The lift will be loaded with a vehicle in Rotary Lift booth #90100, which is located outside near the entrance to the North and South Wing lobbies.

About Rotary Lift
Rotary Lift is the leading brand of vehicle lifts designed to increase technician productivity. Celebrating 90 years in 2015, Rotary Lift was founded in 1925 by the inventor of the first automotive hydraulic lift and now offers the broadest line of lifts for use in professional automotive service, commercial truck and transit applications. There are more Rotary Lift products used in vehicle repair facilities around the world than any other brand.
Rotary Lift is a Vehicle Service Group (VSG) brand. VSG comprises nine major vehicle lifting and collision repair brands: Rotary Lift, Chief® Automotive Technologies, Forward® Lift, Direct-Lift®, Hanmecson®, Revolution® Lift, Elektron, Blitz® and nogra®. Based in Madison, Ind., VSG has operations worldwide, including ISO 9001-certified manufacturing centers in the U.S., Europe and Asia. VSG is part of the Engineered Systems segment of Dover Corporation, a multi-billion-dollar, global producer of innovative equipment, specialty systems and value-added services. Rotary Lift is a GSA contract holder, GSA contract #GS-07F-8953D (Dover Industries, Inc., DBA Rotary Lift). Rotary Lift products are also available through a number of other government procurement programs, including HGACBuy, CMAS, TXMAS, KCRPC and OGS.

For more information about Rotary Lift or other products, click here to go to Utility Products' Buyers Guide.