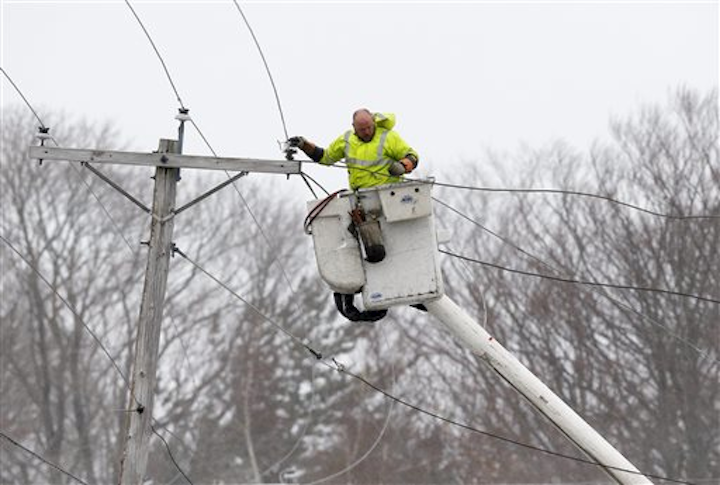 BOSTON (AP) — Massachusetts was pounded by heavy snow and lashed by strong winds early Tuesday, but state officials reported fewer power outages than expected from the winter storm and no catastrophic flooding along the coastline.
By midmorning, the central town of Shrewsbury had 26.2 inches of snowfall — the most recorded anywhere in Massachusetts. Nearby Worcester had 25 inches, the National Weather Service said. Boston had 11.8 inches, according to measurements taken at Logan International Airport, which remained closed to air travel.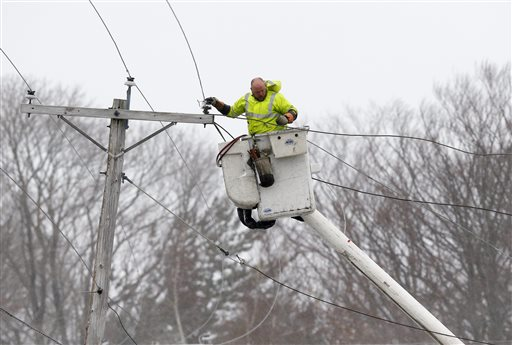 "So far, so good," Gov. Charlie Baker said at an early morning briefing at the state's emergency management bunker in Framingham. A ban on nonessential motor vehicle travel took effect at midnight, and roads and highways were mostly clear of traffic other than snow removal equipment and emergency vehicles. Schools, government offices and most businesses were closed. Some towns, including Sandwich on Cape Cod and Oxford in central Massachusetts, reported more than a foot and a half of snow.
Baker said somewhat colder-than-expected weather produced light and fluffy snow, which may be helping keep the overall number of power outages down. At 9 a.m., National Grid and NSTAR reported nearly 27,000 outages combined, the vast majority on Nantucket, Cape Cod and across the South Shore. The National Weather Service said winds gusted to 78 mph on Nantucket, 70 mph in Bourne, and 51 mph in the Boston suburb of Milton.
Flooding along the coast had been a major concern of state officials, but high tide passed without any "catastrophic, life-threatening situations," said Kurt Schwartz, the state's emergency management director. State and local officials assisted in a handful of voluntary evacuations in Marshfield, Hull and Scituate, Schwartz said, but they were not of a "life and death" nature. Some coastal roads were also closed because of flooding, which isn't unusual for a storm of this size.
The Pilgrim nuclear power plant in Plymouth was forced to go offline after its main transmission lines went down, but there was no danger, said Matthew Beaton, state secretary of energy and environmental affairs. It was not clear when the facility, the state's only nuclear reactor, would resume generating power. "All safety systems worked as designed. Plant conditions are stable, and there is no threat to the safety of plant workers or the public," the plant said in a statement.
Baker said fewer than 200 people spent the night in emergency shelters around the state. But he urged residents to stay inside since snow was expected to continue falling at a rate of up to 2 inches an hour. Baker planned to meet later Tuesday with local officials and his counterparts in neighboring states to determine when the travel ban might be lifted.