GM rolling out new EVs as part of all-electric future
The company says most of the new vehicles will be based on a new electric architecture with a longer range than the Bolt's 238 miles
Oct 3rd, 2017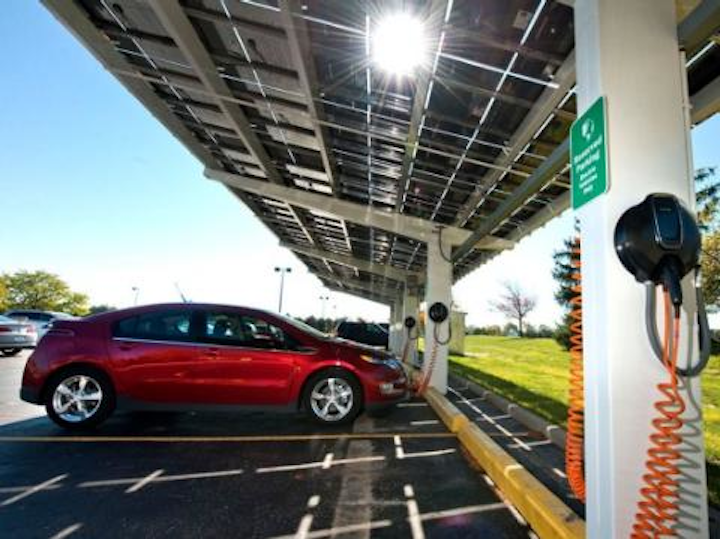 DETROIT (AP) - General Motors is promising two new electric vehicles on Chevrolet Bolt underpinnings in the next 18 months and more than 20 electric or hydrogen fuel cell vehicles by 2023.
The company also pledged to start producing hydrogen fuel cell vehicles for commercial or military use in 2020, and to convert its entire model lineup to zero-emissions in the future.
"General Motors believes in an all-electric future," GM Executive Vice President of Product Development, Purchasing and Supply Chain Mark Reuss said in a release. "Although that future won't happen overnight, GM is committed to driving increased usage and acceptance of electric vehicles through no-compromise solutions that meet our customers' needs."
The two new electric vehicles likely will be SUVs or maybe a sportier car designed to compete with Tesla's upcoming Model 3.
The company says most of the new vehicles will be based on a new electric architecture with a longer range than the Bolt's 238 miles.
GM made the announcements Monday at its technical center in the Detroit suburb of Warren. Executives offered few specifics on the new vehicles.
In July, Swedish producer Volvo announced it would begin producing electric on all its cars beginning 2019. Volvo Cars said it aims to reach its target of selling 1 million electrified cars by 2025, with a range of models, including fully electric vehicles and hybrid cars.
Jaguar Land Rover plans to have up to half of its models as hybrid, plug-in hybrid or battery-run electric vehicles within three years.
In late September, the CEO of the Renault-Nissan-Mitsubishi alliance said those makers will produce 12 new electric vehicles by 2022.