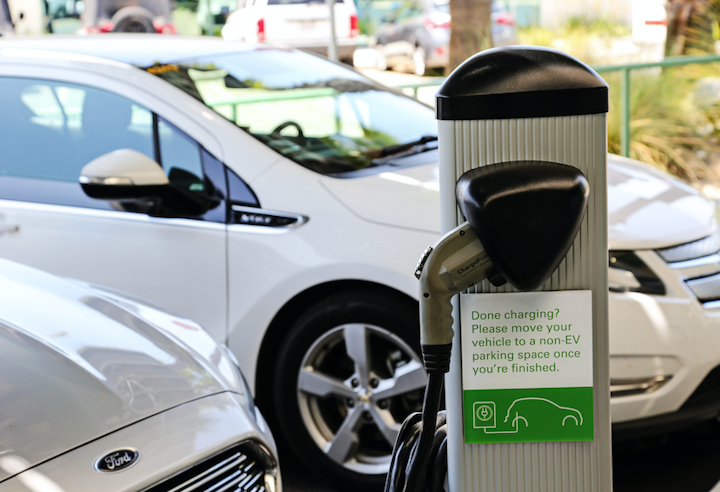 Fresh of reaching one milestone, Southern California Edison now plans to revolutionize electric vehicle use within its industrial customer case.
SCE's Charge Ready Transport will spend $356 million toward installing charging stations for schools, commercial workplaces and industrial sites, including the area's port operations. The California Public Utilities Commission approved the utiity's plan last week.
Katie Sloan, SCE's principal manager for innovation, development and controls, said the five-year plan has the potential to transform fleets for companies, school districts and public agencies. The utility will offer a rebate of up to 50 percent of charging station costs, depending on the size of the company and the industrial pollution rating of the location.
The utility hopes to put in about 830 charging sites and get 8,000 new zero-emission vehicles in operation.
"Forty percent of the goods coming into the country move through southern California's ports," Sloan said. Transforming electric vehicle impact within the region "means getting as much participation as we can."
SCE recently celebrated installation of the 1,000th charging station in Charge Ready pilot program. The new program will use a formula that ensures smaller companies from areas where carbon pollution is higher will be most eligible for the rebates.
"If the company is not on the Fortune 1,000 they are eligible," Michael Backstrom, SCE's managing director of energy and environmental policy, said. "When a company might apply, we can identify whether it fits into one of the (polluted) regions and screen it against the Fortune 1,000."
SCE will wait and see how the adoption patterns emerge before deciding what to do about other build-outs such as substations.
"In early days one of the things we'll focus on is understanding customer use cases and what the load will be," Sloan said. "This is really a customer-driven program."
Overall, monthly bills for SCE customers will go up about 50 cents to pay for the costs of the new program. In addition, SCE already has the Charge Ready program for residential customers who want to install 24-volt electric chargers in their homes. The utility is offering up to $1,500 to defray the infrastructure cost when the customer buys the device.
The CPUC approved close to $768 million in planned spending by the state's major utilities on expanding the network of charging stations. San Diego Gas & Electric will spend $136 million on rebates for as many as 60,000 customers to install home charging stations.
Pacific Gas & Electric will build 230 direct current, fast-charging stations at a cost of about $22.5 million.