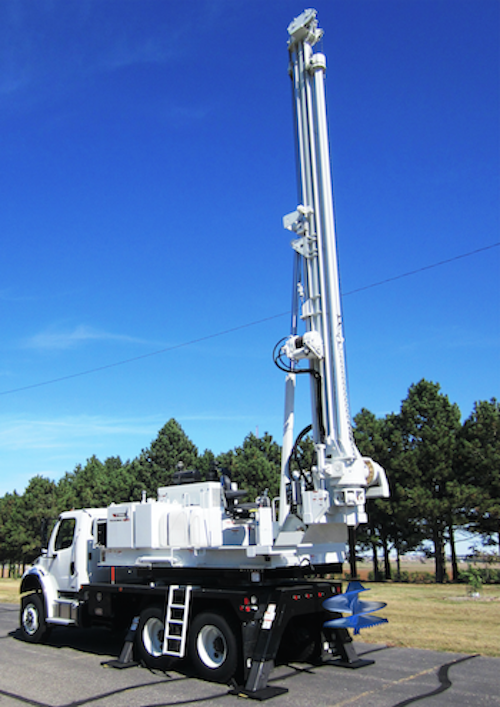 Construction equipment: For faster cycle times in and out of the hole in extreme ground conditions, the Terex® Texoma® spiral bullet tooth auger enables customers' drill rigs to achieve higher production drilling rates. The cut pattern and tooth attack angle on the Terex auger combine to make the bullet teeth act like "fingers" that penetrate through and lift up fractured or broken material. These Terex augers are effective in working in sand, dirt, cobble, cement, fractured or hard rock, compacted soil and frozen ground conditions.
According to Putnam, Terex has specially designed its spiral bullet tooth auger to allow each tooth to cut a small track which increases productivity. With its spiral-shape design and unique tooth pattern that distributes the cutting action evenly, this auger equalizes the work done by each tooth on the cutting tool, increasing production rates and reducing tooth wear. "The efficiency and effectiveness of a contractor's drill rig is ultimately determined by the type of auger tooling used," says Dale Putnam, Terex Utilities product manager. "The auger tooling a contractor uses should be performance-matched not only to the drill rig but also to the ground conditions the rig is operating in. Too often, contractors spend a lot of time and effort trying to push an inefficient auger tool into tough ground conditions, resulting in slow production rates and excessive wear and tear on the tool."
With a standard auger tool, says Putnam, one hole could take crews up to eight hours to drill. With the Terex Texoma auger, the same hole may only take them 30 minutes to complete. "And," says Putnam, "the Terex Texoma auger tool fits right on the existing drill rigs so contractors save money on equipment acquisition and utilization rates. Basically, if a contractor can get the auger drill to the jobsite, this auger tool can dig almost any hole. Even better, because this tool is designed for drilling in tough conditions it puts less strain on the equipment, which results in less downtime due to unscheduled maintenance and repairs."
The Terex Texoma spiral bullet tooth auger can be used in virtually any ground condition, with all of the standard Terex tooth offerings, and is adaptable to any size of digger derrick truck. Terex offers a variety of flighting thickness and pitch options for this auger, as well as custom specifications upon request to meet every customer's particular drilling needs and conditions.
"Drilling contractors need to be able to tackle any ground condition with one machine," finishes Putnam, "As productivity directly correlates to profits, using the right tool maximizes both — auger tooling, engineered for high production drilling in virtually any ground condition, can dramatically improve a rig's drilling performance."
About Terex
Terex Corporation is a lifting and material handling solutions company reporting in five business segments: Aerial Work Platforms, Construction, Cranes, Material Handling & Port Solutions and Materials Processing. Terex manufactures a broad range of equipment serving customers in various industries, including the construction, infrastructure, manufacturing, shipping, transportation, refining, energy, utility, quarrying and mining industries. Terex offers financial products and services to assist in the acquisition of Terex equipment through Terex Financial Services.
For more information about Terex or other products, click here to go to Utility Products' Suppliers Directory.