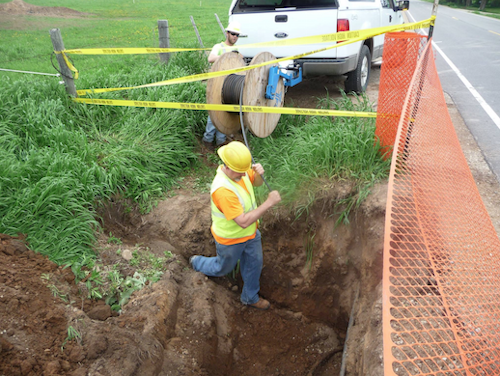 Construction equipment: Two entrepreneurs from Escanaba, Michigan, have introduced a made in America product that is changing the way utility companies look at wire reel transport. Jason Keast and Jim DeStefano, owners and founders of KD Lift, prototyped their first lift in 2013 with Jason's father Mike Keast for their own personal use. After inquiries from coworkers and other utility crews, Keast and DeStefano began manufacturing the product in 2014.
"We built KD Lift to solve a problem in our everyday work, and what we created has done so much more than we could have imagined," Keast said.
KD Lift is a multi-purpose reel lift designed to safely and easily lift wire reels and allow these reels to navigate through alleyways and other areas of limited space. The product allows one person to load and unload heavy reels in minutes, eliminates the need for expensive trailers and allows for faster drive time, easy city parking and single man teams.
Bill Tucker, a line superintendent at Ontonagon County R.E.A., was one of KD Lift's first customers, and said the product has already proved its value in safety and efficiency. Tucker said he would recommend the product and plans to purchase additional lifts.
"We used it extensively for three days and it performed flawlessly," Tucker said. "KD lift really appears to prevent injuries and reduce physical strain on the body. One operator can do it safely and we're all being asked to do more with less these days. They are on to something that will really help utilities and it's over-engineered, which gives me confidence in its longevity."
The current method of hauling reels of cable, fiber and strand requires a utility truck or pickup to tow a trailer with the reels on it. Loading the reels, which weigh up to 680 pounds, onto the trailer requires two or more workers. KD Lift has a maximum operating load of 1000 pounds and weighs less than 300 pounds. It mounts to a class-five hitch and can carry reels as wide as 40 inches and as tall as 48 inches. KD Lift sells for just $4,500 and is able to be shipped economically on a pallet. It requires a lead-time of only four to six weeks.
"We're not only changing the industry, we're changing how we look at safety of transport," Keast said. We're protecting the companies, protecting the employees and making this line of work more efficient."
KD Lift was invented by linemen in the field and professionally engineered for a long lifetime of dependable service. It's efficient, safe and inexpensive. It's just another tool in your toolbox.
KD Lift is a client of Invent@NMU. Invent@NMU specializes in helping people bring their concepts to market.
For more information about KD Lift or other products, click here to go to Utility Products' Suppliers Directory.