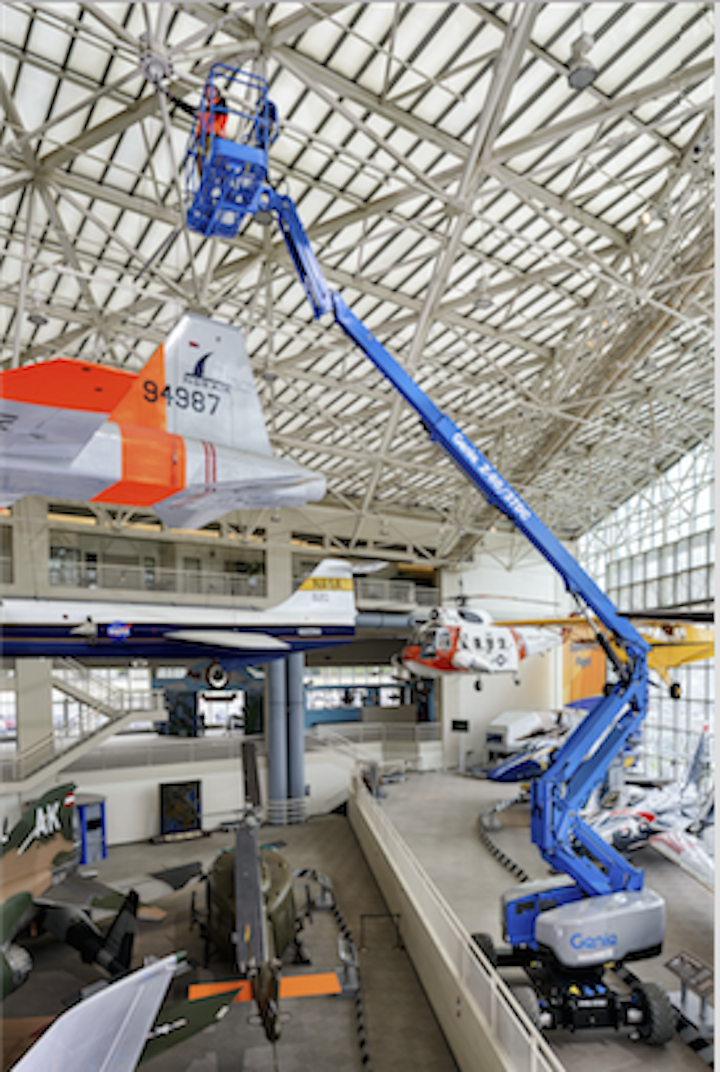 Construction equipment: Terex AWP introduces its first entirely all-electric Genie® Z™-boom lift, which combines the benefits of quieter, environment-friendly operation with the four-wheel drive performance of a traditional diesel-powered machine. Offering the advantages of zero emissions and full workday operation on just one charge, the new all-electric Genie Z-60/37DC boom is ideal for indoor and outdoor applications, such as construction sites, industrial plants and more. As a result of its fast re-charging capabilities that provides full charge from an 110V wall power supply in under 14 hours, operators can use this machine every day.
"The Genie Z-60/37DC model is our first all-electric 66 ft (20 m) articulating boom. It shares a lot of similarities in terms of performance and components with our popular articulating Genie Z-62/40 boom model, and this is intentional," says Adam Hailey, Product Manager, Terex AWP. "We thoughtfully designed this boom to take advantage of the strengths and history of our boom lift product line, to offer customers the right equation of maximized range of motion, real four-wheel drive abilities, quiet performance, energy efficiency, jobsite versatility and cost effectiveness. Weighing more than 5,000 lb (2,268 kg) less than the Genie Z-62/40 lift, the new Genie Z-60/37DC boom enhances the efficiency of this zero emissions model's electric system. This means that the Genie Z-60/37DC lift is able to do a full day's work while accessing many indoor and outdoor work environments that other models cannot."
Delivering 59 ft 7 in (18 m) of platform height, 36 ft 7 in (11.15 m) of horizontal outreach and 24 ft 3 in (7.4 m) of up-and-over clearance, the Genie Z-60/37DC boom lift offers the capabilities of a true articulating boom. Equipped with a jib that provides a high 70° up and 65° down range of motion, coupled with 160° of platform rotation, operators benefit from refined positioning power at the boom tip. The platform on this new all-electric articulating Genie boom machine is available in 6 ft (1.8 m) or 8 ft (2.4 m) versions with a capacity of 500 lb (227 kg) to provide two people access to the entire working envelope. Both platforms offer a side entry swing gate and front sliding mid rail as standard. The 8 ft (2.4 m) platform comes with an additional side sliding mid rail opposite the gate, for a total of three entry points.
Another benefit of this new unit is its Genie FastMast™ system ─ an extremely efficient feature that enables the boom to be moved from full height to below grade and back with just one boom function. With the secondary fully elevated, the primary can reach all the way to the ground and then back to full height ─ the fastest way to 60 ft (18 m). Drivable at full height, the Genie Z-60/37DC boom lift is also equipped with a dual parallel linkage design so operators can vertically track a building by simply raising or lowering the secondary boom.
As a result of its rugged four-wheel drive design, operators will appreciate the "go anywhere" capabilities of this quiet, zero-emissions articulating Genie boom. With fully sealed AC drive motors that can still perform while submerged up to 3 ft (91 cm) of water, it also is able to go 25 percent faster and climb slopes better than typical diesel-powered units. Engineered with a proven drive and oscillating axle system, the Genie Z-60/37DC boom lift performs similarly to other Genie rough-terrain machines, such as the popular Genie Z-62/40 and S™-60 boom lifts. It is equipped standard with all-terrain, non-marking tires that give operators the flexibility to work in interior and outdoor applications, making it one of the first machines on a jobsite — and one of the last to leave.
The Genie Z-60/37DC boom lift provides more performance in a compact unit than any other 66 ft (20 m) electric boom available in the market today. Combining a narrow footprint with the advantage of a low tail swing of just 23 in (58 cm) with the boom elevated, this new all-electric articulating Genie unit has what it takes to access confined areas on almost any jobsite. Combining a low machine weight of 16,600 lb (7,530 kg) with the advantages of a 26 ft 9 in (8 m) stowed length, the Genie Z-60/37DC articulating boom is also as easy to transport on a standard truck, as it is simple and smooth to operate.
The Genie Z-60/37DC articulating boom is available globally.
About Terex
Terex Corporation is a lifting and material handling solutions company reporting in five business segments: Aerial Work Platforms, Construction, Cranes, Material Handling & Port Solutions and Materials Processing. Terex manufactures a broad range of equipment serving customers in various industries, including the construction, infrastructure, manufacturing, shipping, transportation, refining, energy, utility, quarrying and mining industries. Terex offers financial products and services to assist in the acquisition of Terex equipment through Terex Financial Services.
For more information about Terex or other products, click here to go to Utility Products' Buyers Guide.