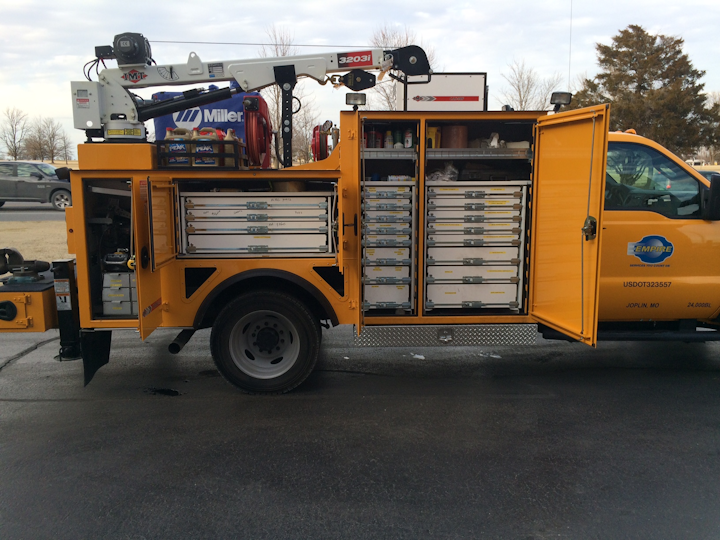 By Mac Irvine
When the power is out, customers are in the dark and electric companies are missing potential earnings. Returning to business as usual after an outage is the number one goal for service crews, and having to return to the shop with an out-of-commission machine costs time and money. Dispatching a mechanics truck to the scene of equipment breakdowns has become a valuable alternative for many utility companies, including Empire District Electric Co.

Based in Joplin, Missouri, the Empire District Electric Co. provides electric, natural gas (through its subsidiary, The Empire District Gas Co.) and water service, with some 218,000 customers in Missouri, Kansas, Oklahoma and Arkansas. Because of its expansive service region, Empire relies heavily on its fleet of four mechanics trucks to bring the shop directly to the equipment.

Mechanics trucks feature a service body and often a telescopic service crane, air compressor and welder to perform repairs and maintenance on all types of equipment. Empire recently replaced two older mechanics trucks with two Iowa Mold Tooling (IMT) Dominator I mechanics trucks, each outfitted with a 3203i telescopic electric service crane and a CAS40P compressor. Each also has a welder and removable lube skid and are designed with custom compartmentation for storing tools, parts and other equipment.

These trucks serve as mobile workshops, servicing and conducting preventive maintenance on digger derricks, aerial devices, underground pullers, line tensioners and drum pullers responding to downed lines and installing new utilities.

For Empire, the benefits of these replacement mechanics trucks are clear, but selecting the right setup involved Empire manager of transportation, Dave Russell; Brad Buxton with dealer Custom Truck and Equipment (CTE) in Kansas City, a Utility One Source company; and IMT regional sales manager, Mark Partlow. Russell had to weigh his options, properly size both crane and truck, and select the extras that would make the mechanics trucks as useful as possible.
Finding the Right Fit
Whether a mechanics truck will be used for lifting, storage, hauling, lubrication, compressed air or welding, chances are there's a truck body sized and equipped to meet that customer's needs. When Russell set out to find replacements for two of his older mechanics trucks, he was looking for a quality setup that would withstand the wear and tear of daily use, provide ample storage and had enough lifting capacity to replace digger derrick augers and load a removable lube skid. Russell decided to reach out to Buxton after seeing the seven-model IMT Dominator lineup over the years at trade shows.

"A lot of brands build a lube truck or a mechanics truck, and we do both off of one truck," Russell said. "We needed a layout that could fit a removable lube skid, and I see the value in the setup and layout of the options that IMT offers."

The Dominator product offering ranges from the Dominator Contractor Series body (a crane body that can be outfitted with an optional telescopic crane with a lifting capacity from 2,000 pounds to 4,000 pounds) to the Dominator IV body (featuring the ability to integrate a 12,000-pound or 14,000-pound capacity telescopic crane for heavy lifting demands).

When determining which truck body would work best, Russell considered a variety of factors. Improperly spec'ing the body means costly underutilization or overutilization. Using one that is too large for the application will not provide maximum return on investment, while a truck that is too small will not get the job done.

Mechanics truck specifications are interdependent. When spec'ing the vehicles, Russell's lifting needs dictate crane size, which in turn governed the size of the body. Crane size, body size and required payload combine to decide the size of the chassis. The required tools included on the truck, combined with other air needs, will determine whether a rotary-screw or reciprocating air compressor is added. Such interdependencies make complete systems integration an important capability to require from a service truck manufacturer.

Russell worked closely with Partlow and Buxton, who made several trips to Joplin during the process to fully understand how the trucks would be used. They had to select the correct chassis, body, crane and add-ons to ensure the vehicle was ready for the job at hand.
A Powerful Chassis
When specifying the chassis for the mechanics trucks, it was important to ensure the frames were clear behind the cabs so there was no restriction on the amount of usable space on the chassis frames. The chassis features a frame section modulus and resistance to bending moment (RBM) ratings that comply with equipment manufacturers' minimum chassis requirements.

The trucks also needed sufficient gross vehicle weight ratings (GVWRs) to maintain road legality when all payload is accounted for. Because Russell would be using a lube skid, this was calculated with the product tanks full.

Overloading could result in fines from state departments of transportation, so a critical aspect of preparing mechanics truck specifications is proper weight distribution calculation.

"Because we're driving mechanics trucks on terrain ranging from flat farmland of Kansas to hilly Ozark bluffs of Missouri, we need a rugged chassis that stands up to the tests of these elements," Russell said.

For the Empire vehicles, Russell opted for an 2016 Ford F-550 4x4 19,500 GVWR gas-powered chassis.
A Robust Body
The mechanics truck body doubles as a means for carrying payload and a foundation to support a crane, so body structure selection depends heavily on the size of the crane if one is needed for the application.

Telescopic service cranes for mechanics trucks are available with maximum lifting capacities as low as 2,000 pounds and as high as 14,000 pounds. For fleets that do not require a full-sized mechanics truck but still need the service and capabilities they offer, there are non-crane body options. Russell chose a Dominator I because it provided ample storage and multiple configuration options.

"I've been really impressed by the amount of usable space and the layout of these IMT trucks," Russell said. "The bodies of these two are actually shorter than what we're accustomed to but the layout far superior, and they are much more durable."
An Efficient Crane
To choose the ideal truck-mounted crane for an application, Russell first had to know what the trucks would be lifting, at what distance and how often. Capacity needs and duty cycle will guide selection from electric telescopic cranes and hydraulic telescopic cranes.

Electric telescopic cranes typically have a maximum lifting capacity between 2,000 pounds and 6,000 pounds, with hydraulic telescopic cranes featuring lifting capacities up to 14,000 pounds. Russell planned to use the crane intermittently for the relatively light auger and lube skid loading, so an electric telescopic crane was the best solution. He chose the 3203i with a radio remote control.

"Adding the remote control makes a huge difference for the operator," Russell said. "This way, they're operating it more accurately and not having to climb all over the truck when using the crane."
Necessary Extras
Empire expects its vehicles to completely repair hydraulics, augers and various other machine issues. Because of this, its mechanics trucks must be suited to take on a little of everything. In addition to the storage units and service crane, its two new vehicles have air compressors, lube skids and welders.

Air compressors provide compressed air to pneumatic tools, to inflate tires, blow out filters or for any other application requiring compressed air.

Rotary screw compressors are for applications requiring a continuous supply of air on demand. These units are compact, lighter in weight than reciprocating piston compressors, and run for extended periods of time—making them more efficient as well.

Reciprocating piston compressors are for short, intermittent job needs. Russell chose a CAS40P reciprocating compressor for his intermittent air uses.

Utilities may also require lubrication systems to deliver contaminant-free fluids to their equipment because contamination control is becoming increasingly important to prevent damage to equipment components.

Some mechanics trucks offer built-in lubrication capabilities, but Russell decided against it. Another approach is adding a lube skid that fits in the back of the mechanics truck and consists of tanks with hose reels to dispense equipment fluids. The lube skid is easily removable so utilities can have mobile lube service when they need it, but also truck-bed space when necessary.

"We prefer opting for a removable lube skid," Russell said. "It improves gas mileage and reduces wear on the truck to be able to remove that weight when it's not in use."

Russell also integrated a welder into the setup to make on-the-job repairs even more simple.

All of these additions and features are crucial to maintain Russell's service operations. When the power is out and the equipment responsible for getting things back up and running breaks down, a mechanics truck can deliver shop-quality service in the field. This improves the efficiency of Empire operations, avoids costly downtime and delivers a better utility product.
About the author: Mac Irvine is an editorial writer for Two Rivers Marketing.
Sources: Dave Russell is manager of transportation, Empire District Electric Co. Mark Partlow is regional sales manager, Iowa Mold Tooling.
For more information about Iowa Mold Tooling or other products, click here to go to Utility Products' Buyers Guide.