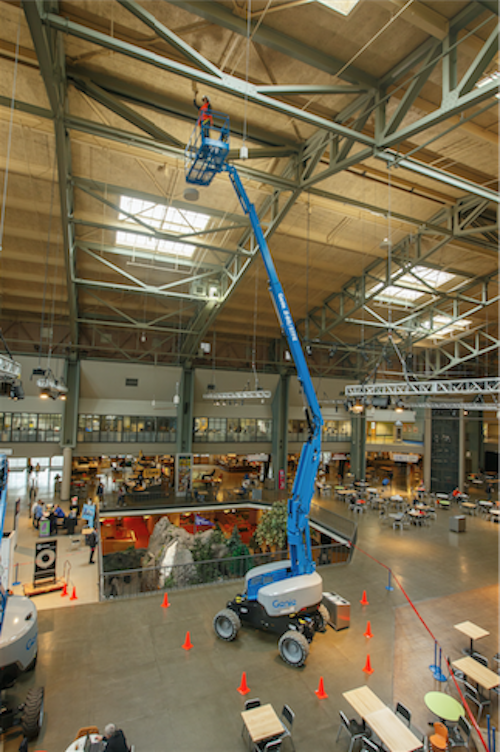 Construction equipment: In response to growing demand for high performance, low emissions aerial work platforms, Terex AWP introduces a new fuel-electric Genie® Z™-boom lift. The new articulating Genie Z-60/37FE boom offers operators two machines in one package for indoor and outdoor applications, while providing lower cost of operation and cleaner performance. Driven by high-efficiency AC motors, this new fuel-efficient model combines the benefits of advanced diesel power, four-wheel drive performance and the cleaner, quieter efficiency of compact, low weight electric-powered booms.
The new Genie Z-60/37FE boom lift provides the choice of two modes of operation: "Full-electric," which means full-day, emissions-free performance on a single charge, or "Hybrid" mode, which provides more than a week of run time with a single tank of diesel — an excellent solution for jobsite conditions that demand higher performance and productivity. In hybrid mode, the machine uses its environmentally-friendly 24-hp Tier 4/ Stage IIIB Final engine-powered generator to maintain the battery state of charge or to supplement the battery power to get a boost in machine performance. To keep productivity high and maintenance costs low, its engine-powered generator constantly monitors the battery state, keeping them topped off for maximum run time, then automatically shutting off to minimize fuel consumption. For extreme usage conditions or after heavy full-electric operation, the hybrid power system can provide a bulk charge within approximately four hours. The hybrid system can also provide power directly to the four-wheel AC drive motors, allowing the system to combine the power of the diesel driven generator and the 48V DC battery pack, maximizing performance when climbing hills and taking on the most rugged terrain.
"The Genie Z-60/37FE boom is a revolutionary new approach to our mid-size Z-boom family, and it adapts to our customers' evolving needs for high performance, high efficiency and low emissions. On long-term jobs even when on-site power is not available, this machine is sufficiently versatile to handle multiple tasks ranging from work on rough and unprepared ground to indoor applications where reduced noise and emissions levels are necessary," says Adam Hailey, Product Manager, Terex AWP. "This model is an extremely cost-efficient solution designed to provide high rental returns for general construction and industrial applications, such as sports arenas, shopping malls and convention centers," notes Hailey.
"Combining the robust quality and rough terrain performance that have made our Genie Z-62/40 and S™-60 boom lifts so popular," continues Hailey, "our new Genie Z-60/37FE boom also offers the advantage of being sufficiently lightweight and compact to handle tasks in confined spaces. It is equipped as standard with foamed-filled, all-terrain tires or optional foam-filled, non-marking all-terrain tires, which add to the machine's outdoor and indoor versatility. As a result, this new unit is just the kind of machine to be the first on the jobsite and the last off — exactly what rental customers are looking for to improve their profitability."
As part of its 'go anywhere' capabilities, this rugged four-wheel drive machine offers 45 percent gradeability, great ground clearance of 1 ft 1 in (33 cm) and is capable of travelling 25 percent faster than other typical diesel-powered units. Operators will also appreciate its full-time active oscillating axles that increase wheel contact on irregular terrain, as well as its fully sealed AC motors, that support drive performance even while submerged under 3 ft (91 cm) of water.
Providing 66 ft (20 m) of working height, 36 ft 7 in (11.15 m) of horizontal outreach and 24 ft 3 in (7.4 m) of up-and-over clearance, the Genie Z-60/37FE lift is equipped as standard with a 5 ft (1.5 m) jib offering 70° up and 65° down range of motion and a 160° platform rotation. It also boasts a narrow footprint and a low 23 in (58 cm) tail swing, ideal for refined positioning work in confined environments. The platform comes in 6 ft (1.8 m) or 8 ft (2.4 m) with a capacity of 500 lb (227 kg) to take on board two people across the entire working envelope. Both platforms offer a side entry swing gate and a front sliding midrail entry as standard. The 8 ft (2.4 m) platform comes with an additional side sliding midrail, opposite the gate, for a total of three entry points.
Focussing on productivity, this articulating boom features the Genie FastMast™ system that enables the boom to be moved from full height to below grade and back, shortening ground-to-top lifting time with the use of just one boom control. Among other features common to all Genie booms, the Z-60/37FE lift combines the time-saving benefits of full height drive ability and a dual parallelogram linkage design to enable operators to vertically track walls by simply raising or lowering the secondary boom without needing to re-position the machine.
Combining a low machine weight of 17,100 lb (7,756 kg) with the advantages of 26 ft 9 in (8.15 m) stowed length, the fuel-electric Genie Z-60/37FE articulating boom is also as easy to transport on a standard truck, as it is simple and smooth to operate.
The new Genie Z-60/37FE articulating boom is available globally.
About Terex
Terex Corporation is a lifting and material handling solutions company reporting in five business segments: Aerial Work Platforms, Construction, Cranes, Material Handling & Port Solutions and Materials Processing. Terex manufactures a broad range of equipment serving customers in various industries, including the construction, infrastructure, manufacturing, shipping, transportation, refining, energy, utility, quarrying and mining industries. Terex offers financial products and services to assist in the acquisition of Terex equipment through Terex Financial Services.
For more information about Terex or other products, click here to go toUtility Products' Buyers Guide.