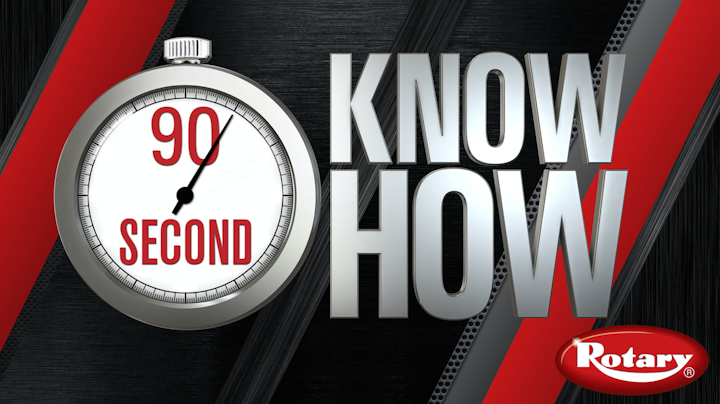 Fleet maintenance: Rotary Lift is drawing on its more than 90 years of experience designing and manufacturing vehicle lifts to answer frequently asked lift operation, maintenance and installation questions in a new video series dubbed "90 Second Know How." These short videos cover light-duty and heavy-duty lifts, I ncluding two-post lifts, four-post lifts and inground lifts.

"Rotary Lift's customer service team gets more than 190,000 phone calls a year," says David Fischmer, Rotary Lift marketing director. "Our customers are busy, and when they need help, time is money. But when a customer isn't standing at the lift when calling, verbal explanations can be difficult to convey and hard to understand. This new video format is like being in the customer's shop to demonstrate the answer – in just 90 seconds."

The first six videos are online now, with additional releases scheduled monthly. The videos currently available at www.rotarylift.com/training-videos cover:

• Spotline™ laser positioning and syncing.
• Mach™ Series mobile column lift error messages.
• Greasing SmartLift® plungers.
• Four-post lift cable adjustment.
• Y-Lift calibration.
• Two-post lift cable adjustment.

"Our inspiration in developing the 90 Second Know How video format was to not waste people's time," said Brad McAlister, video and multimedia specialist at Rotary Lift. "Cut to the chase and get right to the point. We even included a small 90-second running stopwatch in the bottom left corner that's counting down the whole time the video is running. The 90 Second Know How videos provide just what our customers tell us they want – the technical information they need – not a commercial."

To learn more about Rotary Lift's complete line of light and heavy-duty vehicle lifts, contact your local Rotary Lift distributor, visit www.rotarylift.com or call (800) 640-5438. You can also find Rotary Lift on Facebook, www.facebook.com/RotaryLift, Twitter, twitter.com/RotaryLift, and at The Blueprint blog, blog.rotarylift.com. Check out other more in-depth Rotary Lift videos at rotarylift.com/videos.

About Rotary Lift
Rotary Lift is the leading brand of vehicle lifts designed to increase technician productivity. Celebrating 90 years in 2015, Rotary Lift was founded in 1925 by the inventor of the first automotive hydraulic lift and now offers the broadest line of lifts for use in professional automotive service, commercial truck and transit applications. There are more Rotary Lift products used in vehicle repair facilities around the world than any other brand.
Rotary Lift is a Vehicle Service Group (VSG) brand. VSG comprises nine major vehicle lifting and collision repair brands: Rotary Lift, Chief® Automotive Technologies, Forward® Lift, Direct-Lift®, Hanmecson®, Revolution® Lift, Elektron, Blitz® and nogra®. With its American headquarters in Madison, Indiana, VSG has operations worldwide, including ISO 9001-certified manufacturing centers in the U.S., Europe and Asia. VSG is part of the Engineered Systems segment of Dover Corporation, a multi-billion-dollar, global producer of innovative equipment, specialty systems and value-added services. Rotary Lift is a GSA contract holder, GSA contract #GS-07F-8953D (Dover Industries, Inc., DBA Rotary Lift). Rotary Lift products are also available through a number of other government procurement programs, including NJPA, HGACBuy, CMAS, TXMAS, KCRPC and OGS.
For more information about Rotary Liftor other products, click here to go to Utility Products' Buyers Guide.