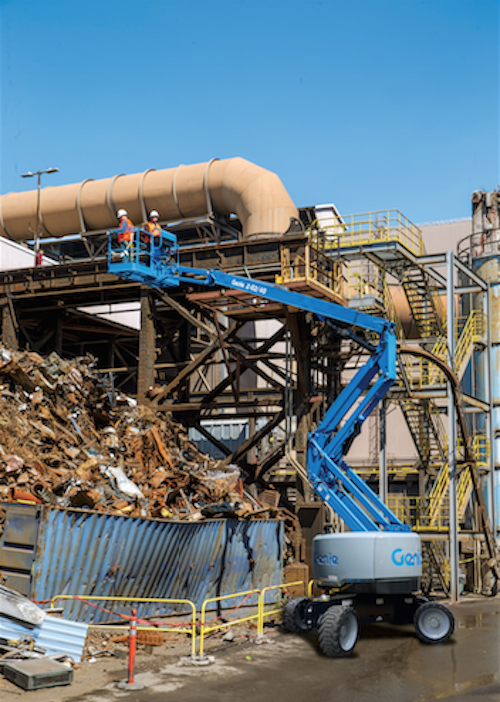 Boom lift: To enhance performance in rugged work environments, the Genie® Z™-62/40 articulating boom is now available with three new options: Four-wheel steering, the exclusive Genie TraX™ track drive system and a Deutz® 74-hp (55 kW) turbocharged Tier 4F diesel engine. With these new options, the Genie Z-62/40 boom lift now offers operators even more versatility to work in indoor and outdoor applications based on the work environment, terrain, climate and the job at hand.
Four-Wheel Steering
The four-wheel steering option on the Genie Z-62/40 boom enables operators to get to and from work areas efficiently, even over rough terrain, and provides additional maneuverability around the jobsite. Four-wheel steering provides operators with the ability to steer the front wheels and the rear wheels at the same time, resulting in improved steering responsiveness and precision, a smaller turning radius and increased maneuverability in tight or limited access areas. Combined with the enhanced maneuverability of the Z-62/40 boom's four-wheel steering capability, the four-wheel drive and full-time active oscillating axles increase wheel contact with the ground on irregular terrain, improving the smoothness of the ride for the operator.
TraX™ Track Drive System
When working on a site with mud, sand, snow or gravel, or just generally soft underfoot conditions, the Genie Z-62/40 TraX machine is built for the job. Unlike traditional steel tracked crawler booms, the Genie Z-62/40 TraX machine can be used in most applications like a wheeled machine, allowing operators to maximize utilization on jobsites. The exclusive Genie four-point TraX track drive system option provides this boom with exceptional terrainability and lower contact pressure for reduced damage to sensitive ground surfaces. The TraX unit has wide, rubber tracks for increased flotation and traction, so soft, wet, rough terrain or other sensitive surfaces like turf won't slow operators down.
Tier 4F Engine
The Genie Z-62/40 articulating booms is available with a new 74-hp (55 kW) Tier 4F Deutz TD 2.9 water-cooled, 4-cylinder inline engine that boasts cooled, external exhaust gas recirculation with turbocharging. The engine utilizes a DVERT® oxidation catalytic converter (DOC) for maintenance-free operation under all application and ambient conditions. This engine choice provides this boom lift with plenty of power to get the job done, as well as the ability to work more efficiently in higher altitudes. This engine package is required when using a Genie Z-62/40 boom equipped with the TraX track drive system option.
Exceptional Jobsite Performance Is Standard
The Z-62/40 boom lift continues to offer the same great features its known for, including a working height of 67 ft 11in (20.87 m) and provides exceptional horizontal outreach with a maximum of 40 ft 11 in (12.47 m). It delivers excellent up and over clearance of 25 ft 7 in (7.80 m) with a maximum lift capacity of 500 lb (227 kg). It also offers zero rear tail swing and minimal front turntable tail swing in the stowed position and has a below ground reach of up to 5 ft 6 in (1.68 m). The Z-62/40 boom lift has a 5 ft (1.52 m) jib with 135 degrees range of motion. With its Genie Fast Mast™ boom system, operators can descend and retrieve needed tools or materials and quickly return to working height with just one boom function. The dual parallelogram lift linkage allows precise positioning of the platform on the jobsite for improved productivity. A proportional control system provides the users with smooth operation.
The Genie Z-62/40 articulating boom options will be available globally within Q2, 2016.
About Terex
Terex Corporation is a lifting and material handling solutions company reporting in five business segments: Aerial Work Platforms, Construction, Cranes, Material Handling & Port Solutions and Materials Processing. Terex manufactures a broad range of equipment serving customers in various industries, including the construction, infrastructure, manufacturing, shipping, transportation, refining, energy, utility, quarrying and mining industries. Terex offers financial products and services to assist in the acquisition of Terex equipment through Terex Financial Services.
For more information about Terex or other products, click here to go to Utility Products' Buyers Guide.