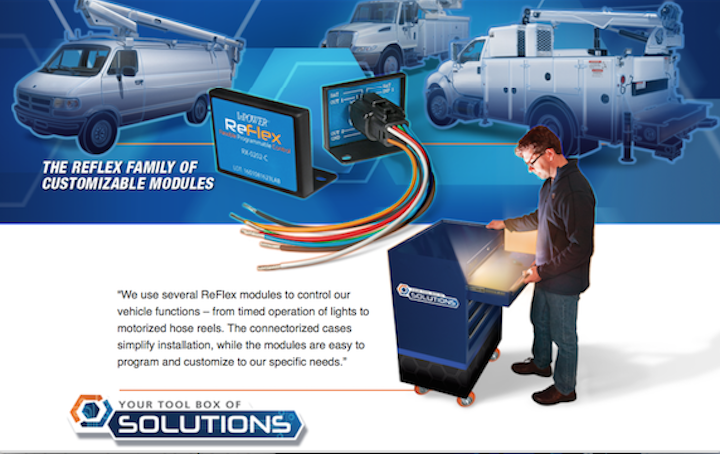 Truck accessories: InPower, a full-service provider of electrical systems solutions for work trucks, has developed the new ReFlex family of customizable modules. The ReFlex builds upon the capabilities of InPower's vehicle control module (VCM) series to provide a higher level of flexibility and customization to vehicle load control.

"With the ReFlex series, multiple functions can be programmed into one compact module, which simplifies both installation and operation," said John Melvin, InPower's Vice President of Engineering.

The ReFlex series also offers more capabilities and power for controlling loads, timer functions and DC motors. An integrated Molex MX-150 connector allows for easy installation. Select models have the ability to communicate across the Controller Area Network (CAN bus).

Available ReFlex modules include:
· RX-0302 with 3 inputs/2 outputs and 15 total amps
· RX-0202 with 2 inputs/2 outputs and 30 total amps
· RXC with 2 inputs/2 outputs and CAN capability
· RXG-0202 with 2 inputs/2 ground outputs and 30 total amps
· RX-H, a 10 amp H-bridge controller

"With the ReFlex series, our customers have an increased level of control over vehicle functions – from timed operation of lights to motorized hose reels," said Melvin. "The modules are easy to program and can be tailored to a customer's specific needs."

In addition, the ReFlex series recently received an IP67 rating of its protection level against intrusion. The rating means the module is totally protected against dust ingress as well as short periods of water immersion.

"With the ReFlex's IP67 rating, our customers can rest assured the modules are protected from the dust and water that is present in a wide range of operating conditions and environments," said Melvin. "It also demonstrates our commitment to building reliable, long-lasting products."

ABOUT INPOWER: InPower, located in Lewis Center, Ohio, specializes in advanced electronic solutions for a wide range of applications requiring vehicular power, monitoring or control. Our universal products for work trucks include electronic throttles, DC monitoring products, flashers, electronic relays, low voltage disconnects, contactors, interlock modules and switch panel systems.
For more information about InPower or other products, click here to go to Utility Products' Buyers Guide.