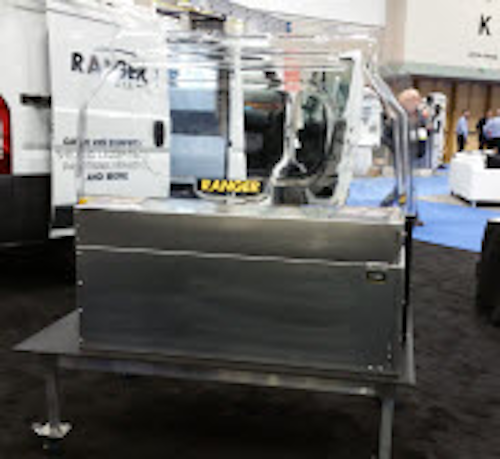 Utility vehicles: The Work Truck Show® 2016 Innovation Award was presented to Ranger Design (Ontario, New York) for the company's Max Viewsafety partition. Ranger Design received the award at The Work Truck Show 2016, held March 1–4 at the Indiana Convention Center in Indianapolis, Indiana.
The Work Truck Show Innovation Award goes to the product at the Show deemed "most innovative" by a panel of trade media editors and truck fleet managers. All products entered in The Work Truck Show 2016 New Product Spotlight or New Product Media Guide programs are eligible.

Max View is a safety partition with a top portion molded out of clear thermoformed ABS and polycarbonate to snugly fit Ford® Transit Connect, Ram ProMaster City® and Mercedes-Benz Metris cargo vans. The Max View partition's see-through feature greatly enhances cargo space visibility, reduces blind spots, permits more light into the cab and creates the feeling of a more wide open, less claustrophobic cab space, according to the company. The product's contoured design allows the seats to travel to the full back position, and its precision fit reduces drafts for improved cab climate control while reducing rattle noise.

"Innovation is a part of our business strategy, and continuous feedback from our distributor network helped guide us in our design of the Max View partition," said Steve Milizia, regional sales manager for Ranger Design. "We are extremely proud to be recognized for developing a product that helps satisfy what the industry is seeking — more efficiency and comfort in the performance of their everyday tasks."
About The Work Truck Show
The Work Truck Show, one of the top 100 trade shows in the U.S., brings together more than 11,000 truck fleet managers, dealers and equipment distributors annually. It features the newest vocational trucks, vans and equipment, a ride-and-drive, and opportunities to network with other work truck industry professionals on an exhibit floor covering more than 500,000 square feet, as well as a comprehensive educational conference.
About NTEA
Established in 1964, NTEA – The Association for the Work Truck Industry, represents nearly 1,800 companies that manufacture, distribute, install, sell and repair commercial trucks, truck bodies, truck equipment, trailers and accessories. Buyers of work trucks and the major commercial truck chassis manufacturers also belong to the Association. NTEA provides in-depth technical information, education, and member programs and services, and produces The Work Truck Show. The Association maintains its administrative headquarters in suburban Detroit and government relations offices in Washington, DC, and Ottawa, Ontario.
For more information about Ranger Design or other products, click here to go to Utility Products' Buyers Guide.