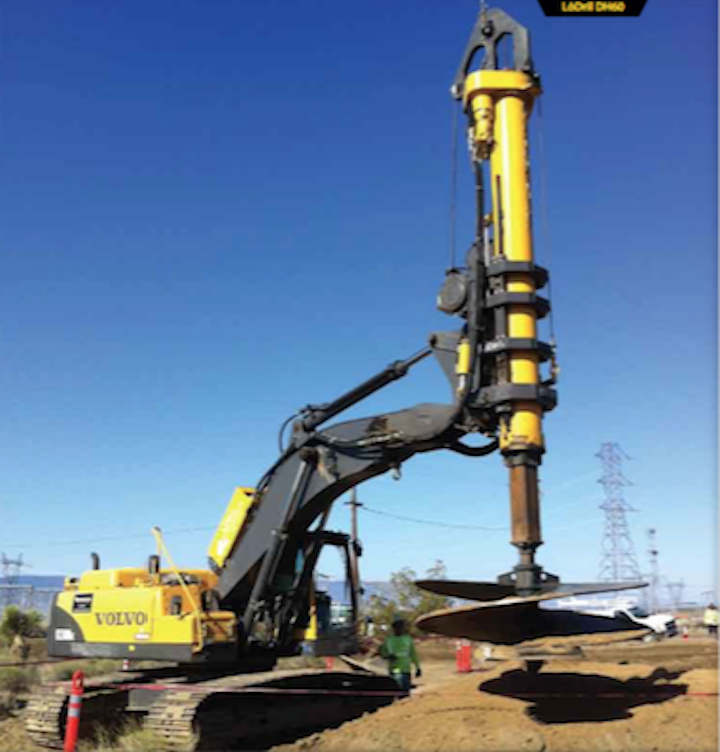 Construction equipment: Bring new versatility and profitability to your drilling business with Bay Shore Systems' LōDril series of excavator drilling attachments. The LōDril is cited to be the most versatile foundation drilling tool on the market and is available in seven models with delivered torques from 10,000 ft-lbs (14 kNm) to 110,000 ft-lbs (149 kNm).
With over 500 units in the field, the LōDril product line has a proven track record of profitability and reliability under the most difficult drilling conditions. The LōDril will put power and versatility where it counts -- in wide open spaces, under overhead obstructions, on slopes, over obstacles or on many other difficult access applications. With a LōDril you can do more than just drill holes; you can drill the holes that bring the most value to your bottom line!
Click here to download a PDF of the LoDril section of the Bay Shore brochure with all of the specs you'll need to find out which LoDril will be best for your next job.
A Word About Torque. Hydraulic vs Mechanical.
Comparing Torque Ratings Among Various Rigs? Be Careful!
If you're comparing torque ratings from one piece of equipment to another, it's important to differentiate between mechanical torque and hydraulic torque. Many drill rigs show mechanical torque ratings. When those are compared to hydraulic torque ratings on rigs such as the LoDril, the comparisons can make it seem that the hydraulic rigs are much less powerful. This is not the case.
For example, if you're looking at a rig with a torque rating at 40,000 ft-lbs (54 kN-m) in order to find a comparable mechanical rig, you'll need something in the range of 80,000 ft-lbs (108 kN-m).
For a more detailed explanation, click here to go to the Bay Shore Advantage section and download our technical paper on Torque vs Torque.
See the LoDril in Action!
Click here to watch a video of the LoDril in action.
For more information about Bay Shore Systems or other products, click here to go to Utility Products' Buyers Guide.