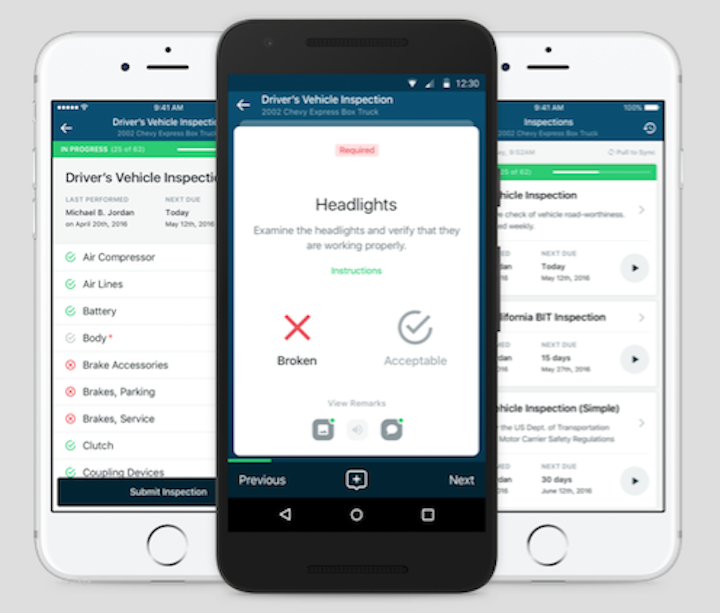 Fleet management: Fleetio launched a modern, electronic alternative to paper-based vehicle inspections for fleets. Fleetio's vehicle inspections module empowers drivers to quickly and accurately complete required inspections and instantly trigger maintenance workflows using the Fleetio Go mobile app.
Fleetio allows fleet administrators to choose from preformatted templates (DOT, MOT) or build their own vehicle inspection forms including customized fields, instructions for drivers and inspection schedules. Drivers simply scan a barcode on their mobile devices to access and perform assigned inspections. If inspection items fail, drivers include details like photos and comments to offer improved clarity to mechanics and management. Failed items trigger maintenance workflows, allowing fleets to stay compliant and resolve issues immediately.
"The simplicity of mobile inspections has been a game-changer for our drivers," said George Buckner, Chief Information Officer of Central Florida Electric Cooperative. "Fleetio offers clean, easy-to-use vehicle inspections forms that don't get lost in the shuffle."
Experience the power of a mobile vehicle inspections process with Fleetio's suite of fleet management tools
About Fleetio
Fleetio helps fleets of all sizes gain visibility into fleet operations and manage assets while on the go. With mobile apps like Fleetio Go and Fleetio Parts, fleet teams can instantly access and update data regarding maintenance, fuel, drivers, inspections, parts and more. To increase productivity, Fleetio allows for seamless collaboration among users. Fleetio provides fuel card and VHM automation plus integration with multiple GPS solutions for automated odometer updates, DTC handling and fuel location exception reporting.
For more information about Fleetio or other products, click here to go to Utility Products' Buyers Guide.