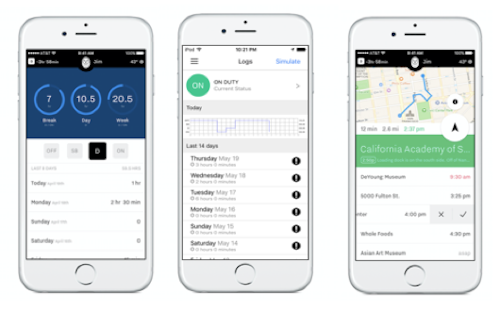 Utility vehicles: Samsara has announced a major expansion of its product offering for commercial vehicle fleets, leveraging the company's innovative wireless technology to increase fleet productivity and lower costs. Samsara was founded in early 2015 by Sanjit Biswas and John Bicket. Biswas and Bicket previously founded and led wireless networking pioneer Meraki, which was formed out of their research at MIT and grew to support tens of thousands of customers worldwide. Meraki was acquired by Cisco Systems in 2012 for $1.2 billion.
Samsara brings Meraki's history of wireless innovation to transportation and industrial markets, offering wireless sensor systems for vehicles, supply chains, and industrial assets that give operators real-time visibility and analytics into their physical operations. Samsara is growing rapidly, and has raised $25 million in financing from leading venture capital firm Andreessen Horowitz.
Samsara's latest offering for fleets builds on the last decade of GPS fleet tracking technologies, bringing increased visibility to operators that enable them to increase the efficiency of their fleets.
"Roughly seven in ten commercial vehicles in the United States does not have any form of telematics today," said Biswas. "But businesses are managing more and more of their operations over the Internet and from their smartphones. As operations are becoming more data-driven, fleet managers are taking a second look at GPS and telematics, and are discovering a solution that is more modern and business-relevant than what they'd seen before."
At the heart of Samsara's solution is the VG33 vehicle gateway, a cellular GPS tracker that includes Samsara's wireless technology. The VG33 gives operators up-to-the-second, real-time visibility into their fleet, and provides complete visibility over their field operations:
Wireless sensors monitor the temperature and humidity of refrigerated cargo, and can monitor specialized equipment like snow plows and lift arms. With a plug-and-play wireless design, these sensors - the size of a matchbook - install in seconds without running cables, recharging batteries, or complex engineering.
A wireless driver ID system seamlessly detects and identifies drivers from a small wireless token in their pocket or workbag - without the cost and complexity of installing card readers in a cab, and without the burden of drivers badging in or entering codes.
A built-in WiFi hotspot connects drivers' tablets, smartphones, and laptops to the Internet, enabling drivers to access productivity applications and hours of service logs. Samsara's WiFi hotspot includes 500MB of WiFi data per month at no cost, so drivers can complete work orders, send emails, submit tickets, and more while in the field.
Samsara has introduced a suite of software features and apps that leverage the gateway's wireless capabilities, enabling operators to identify issues, spot trends, and streamline the routing, dispatching, and maintenance of their fleet.
Included in this suite is a driver app for iOS and Android devices. The app provides ELD-ready hours of service logging, for fleets subject to the upcoming Department of Transportation ELD mandate; vehicle inspection reporting (DVIR); and a dispatch system enabling dispatchers to send new stops and routes to drivers, and for drivers to manage their routes with turn-by-turn directions.
"The Samsara solution is saving us thousands and thousands of dollars," said Adam Bellas, co-owner of Bellas Landscaping, who is deploying Samsara across his 30-vehicle fleet. With Samsara, Bellas is improving the efficiency of his crews' routes, increasing billable hours, and streamlining maintenance. "If we can save 5-10 minutes each day with a two man crew, you're talking about very large saving over the course of the year."
The Samsara VG33 is available for immediate order. New software features, including WiFi hotspot, are available to existing customers via a free over-the-air update. The Samsara Driver App is available for free to Samsara fleet customers on the Apple App Store and Google Play Store.
About Samsara
Samsara is an Internet of Things company with a mission to accelerate the adoption of sensor data, increasing industrial efficiency at a massive scale. Samsara's innovative technology combines plug-and-play wireless sensors, secure cellular gateways, and cloud-hosted software, making it easy and affordable for organizations to gain visibility into their physical operations. Samsara was founded in 2015 by Sanjit Biswas and John Bicket, previously founders of Meraki, the cloud networking leader that was acquired by Cisco Systems for $1.2 billion. Samsara is based in San Francisco and is funded by Andreessen Horowitz.
For more information about Samsara or other products, click here to go to Utility Products' Buyers Guide.