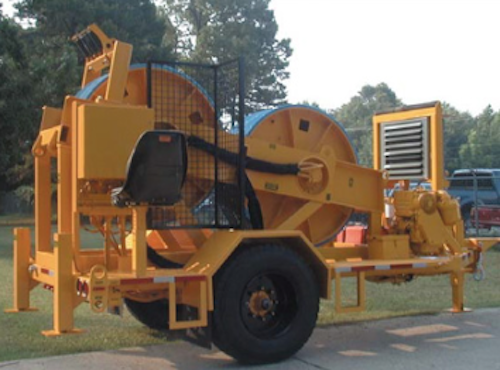 Construction equipment: TSE International provides electric utilities and their contractors worldwide with the widest range of tension stringing solutions for both aerial and underground projects in electric transmission and communications.
Our equipment is backed by safe and efficient installation methods matched to the needs of the customer and to the demands of local terrain. From line-pulling equipment to training for local utility staff, TSE is an essential contributor to the growth and maintenance of the world's electrical power grid.
Tensioning Equipment for transmission conductor stringing
TSE builds the most complete line of pullers in the industry for tensioning single-conductor up to 6 and 8 bundle projects.
Our line-up includes a full range of drum-type tensioners as well as bullwheel tensioners in sizes up to 108″ (2740 mm).
• T90-2H/2 Hydraulic Tensioner
• T75-2H/2 Tensioner
• T150H72-2 Tensioner
• T60-2H/2 Hydraulic Tensioner
• T120H72-2 Tensioner
• T100/60 BW Tensioner
• T300-3H/3 Tensioner
• STQ 60-48 for 1 to 4 Conductors
• T50/52 BWRC
• T50-60 BW Tensioner
• T50H/52 DD BWRC
• T50/60-2H/2 Hydraulic Tensioner
For more information about TSE International or other products, click here to go to Utility Products' Buyers Guide.