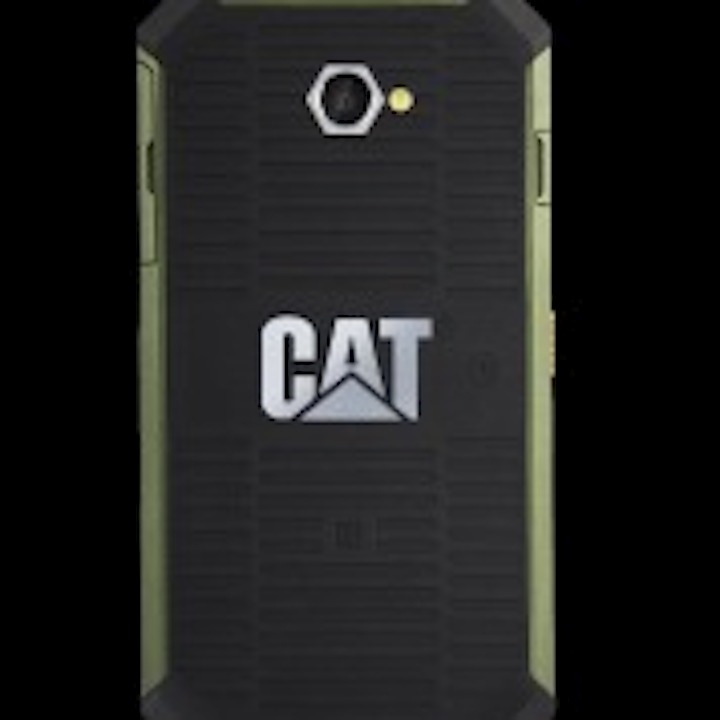 Utility equipment: Cat® phones, today announced the launch of the Cat® S50c rugged smartphone, connected exclusively on the Verizon network. A device rigorously tested and designed for challenging environments, the S50c's exceptional performance will benefit those braving the elements in rugged or tough all weather jobs including rescue services,construction, ski patrol, boating and outdoor enthusiasts.

The Cat S50c comes from the globe's leading manufacturer of construction and mining equipment, Caterpillar Inc. and will be available from January 14. The Cat S50c's robust design meets United States Military standards and is IP67 certified providing protection against drops, water, dust, extreme temperatures, humidity, thermal shocks, vibration and salt mist.

According to recent industry research, Americans have spent $23.5 billion repairing and replacing smartphones in the last seven years, spending $10.7 billion on iPhone repairs alone. 33 percent of consumers stated they have either dropped or damaged their phone and 48 percent of all smartphone users stated they are currently using a damaged smartphone. In recent focus groups conducted by Bullitt Group with professional tradesmen and outdoor workers, respondents emphasized that damaging handsets in demanding work environments is a common problem. More than half of those spoken to had cracked or broken their phone screen in normal every day use, showing it was not truly fit for purpose.

"Consumers are becoming increasingly dependent on smartphones for all aspects of daily lives so they far transcend their original purpose of voice communication," said Peter Stephens, Bullitt Group's CEO, global licensee for Caterpillar. "The strategic achievement represented by this launch of the Cat S50c on the Verizon network confirms our commitment to offering our customers the industry's most innovative rugged smartphone with class-leading durability."

In addition to the rugged credentials, the technical features of the Cat S50c make this the perfect companion for anyone working in challenging environments. The generous 4.7 in. HD Gorilla Glass scratch resistant display is fully operational while wearing gloves up to 4mm thick, with wet hands and even in the rain or snow and the 8MP camera will take photos of work progress, outdoor achievements and challenging situations. The Cat S50c is also Push To Talk ready with a dedicated key to allow users to communicate instantly with one person or an entire workforce on the largest and most reliable Push To Talk network in the United States.

Standout features of the Cat S50c include:

· Drop Proof: Meeting United States Military standards, the S50c is Mil Spec 810G certified drop proof up to 3.9 ft. It features a scratch and shatter resistant Gorilla® Glass screen that won't crack under pressure.
· Dust Proof and Waterproof: The S50c is fully impervious to dust and waterproof in 3.3 feet of water for up to 30 minutes. IP67 certified.
· Wet Finger & Glove Tracking: The 4.7 in. Gorilla Glass scratch resistant display is fully operational while wearing gloves up to 4mm thick, with wet hands and even in the rain or snow.
· Push To Talk Ready: The S50c has a dedicated Push To Talk key, which allows users to communicate instantly in even the most remote locations either 1-to-1 or to synchronize an entire workforce with one push of a button.
· Performance ­ The S50c features a 1.2GHz quad-core processor, 1GB RAM, 8GB FLASH, expandable by Micro SD up to 64GB. The 2630mAh battery provides a full day of robust browsing and speedy downloads on the Verizon 4G network.
· 4.7 in. HD Display ­ View images, watch videos or play games on the crisp HD display with perfect clarity. Unlike most rugged phones, it has a generous 4.7 in. HD screen, optimally designed for working with documents on the go.
· App Store - This preinstalled feature showcases ta range of recommended apps relevant for the Cat phone audience.

The Cat S50c will be available exclusively on the Verizon network on January 14 from catphones.com, amazon.com and homedepot.com, and also available to all authorized Verizon Wireless Agents from Ingram Micro.
For more information about Cat phonesor other products, click here to go to Utility Products' Buyers Guide.