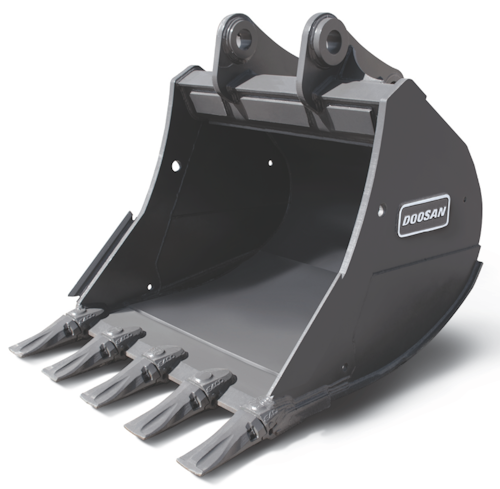 Construction equipment:Doosan introduces a new line of severe-duty buckets for crawler excavatorcustomers needing a bucket that can handle abrasive materials in heavy digging and loading applications.
Doosan severe-duty buckets are approved for use with Doosan DX140LC-5 through DX530LC-5 crawler excavators. They are available in a pin-on or wedge-lock style. The severe-duty bucket sizes range from 18-inches wide for the smaller DX140LC-5, to 72-inches wide for larger Doosan excavators, such as the DX530LC-5. There are a variety of sizes and capacities in between, to best match the severe-duty bucket to the corresponding crawler excavator.
Abrasive-resistant material
Doosan severe-duty buckets are made with abrasive-resistant material for added protection and strength when digging in loose rock, or pit and quarry operations. The side cutters, shell bottom and side wear plates, and a weld-on wear shroud are made out of abrasive-resistant material. Reinforcing gussets have also been added to strengthen the machine-fitting joint on the bucket.
Wear pads
Front wear pads were added to the severe-duty buckets for extra protection from rocks and irregular materials.
Thicker cutting edge
Doosan excavator customers needing to easily dig through tough materials such as hard rock will appreciate a new, durable, abrasive-resistant cutting edge.
Rolled wear strap
Standard on the new Doosan severe-duty buckets is an abrasive-resistant wear strap.
ABOUT DOOSAN INFRACORE CONSTRUCTION EQUIPMENT AMERICA
Doosan Infracore Construction Equipment America, headquartered in West Fargo, North Dakota, markets the Doosan brand of products that includes large excavators, wheel loaders and articulated dump trucks. With more than 160 heavy equipment dealer locations in North America, Doosan is known for an unmatched dedication to service and customer uptime, and durable, reliable products. Doosan is fast becoming a global force in heavy construction equipment. Doosan Infracore Construction Equipment America is a subsidiary of Doosan Bobcat Inc., a wholly owned subsidiary of Doosan Infracore Co., Ltd.
For more information about Doosan or other products, click here to go to Utility Products' Buyers Guide.