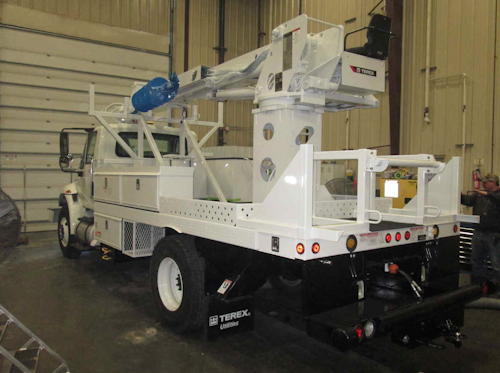 Utility vehicles: To help fleet managers balance equipment value with user requirements, Terex has developed a new process to assist customers with spec'ing utility trucks, including aerial devices and digger derricks, that complies with bid specs, costs less to purchase and takes less time to produce. By working hand-in-hand with fleet managers and equipment design teams, Terex continues to offer customers the utility equipment they need, outfitted how their users want it, while helping them to realize cost savings and take advantage of reduced lead times.
"Over the years, work practices and requirements have been adopted, adapted and evolved to the point where many of today's utility truck fleets have become extremely customized," says Terex Utilities Director of Marketing, Joe Caywood. "With this new approach, Terex is proactively working to find synergies in customers' truck specs, work practices and requirements to meet those custom requirements with more cost-efficient and time-effective solutions. Utility trucks developed in our new installation standards process still meet all our customers' required configurations, using standard components and accessories as the building blocks. This translates to more competitive sales prices and shorter equipment lead times for our customers, and Terex continues to deliver the same high-quality, productive utility equipment we're known for."
Here's how this new approach works: Terex meets with a utility customer to better understand what equipment is needed and how it will be used, what parts and service would be needed to support that equipment, as well as the capital structure that best fits the organization as it considers filling its fleet needs. And it's not a one-way street — Terex shares information on full line of utility truck offerings, as well as the latest technology and innovations. Through this approach, Terex can realize all of the synergies in specifications to create efficiencies in bid specs, delivery times and overall work practices.
If a customer does require a customized configuration for their equipment fleet, Terex uses the truck's standard options and accessories as building blocks. This allows Terex to engineer, produce and place the parts unique to the customer requirements during the installation process where the unit and body are mounted on the truck chassis.
Standard equipment are tools and accessories designed to perform a particular function, in a specific application, and with the intent of repeated production. Standard equipment, such as strobe lights, pintle hitches, winches, material handling brackets (wire reels, pole racks and transformer holders) generators, ladder racks, storage boxes and cone holders, are often available in differing sizes or configurations, or offered with various optional features, but the core function of these components remain the same.
"On average, a utility contractor or company could expect to see an average of 5-10 percent savings by utilizing the new Terex standards versus custom accessories and parts," says Caywood. "Lead times are also positively influenced. By utilizing standard components versus custom, Terex lead times have been reduced. For example, a truck utilizing standard options and accessories may cut the lead time to manufacture by as much as 50 percent."
About Terex
Terex Corporation is a lifting and material handling solutions company reporting in five business segments: Aerial Work Platforms, Construction, Cranes, Material Handling & Port Solutions and Materials Processing. Terex manufactures a broad range of equipment serving customers in various industries, including the construction, infrastructure, manufacturing, shipping, transportation, refining, energy, utility, quarrying and mining industries. Terex offers financial products and services to assist in the acquisition of Terex equipment through Terex Financial Services. Terex uses its website (www.terex.com) and Facebook page (www.facebook.com/TerexCorporation) to make information available to its investors and the market.
For more information about Terex Utilities or other products, click here to go to Utility Products' Buyers Guide.