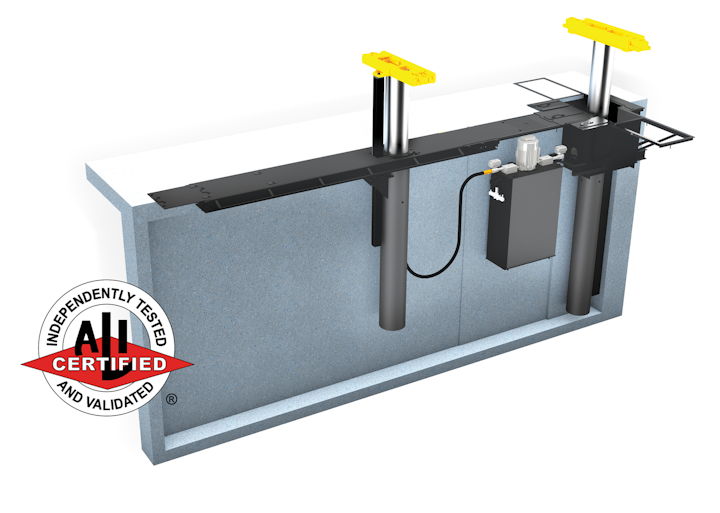 Utility vehicles: Rotary Lift has updated its 70 Series heavy-duty traditional inground liftswith new user-friendly features and has had the lifts third-party tested and certified to meet industry safety and performance standards.

The 70Q and 703Q traditional inground lifts feature a new standard locking system with "lower to locks" feature. It's based on the popular and proven Rotary Lift MOD Series locking system. Also new is an upright control console that eliminates the need for technicians to bend down to run the lift. Instead, the operator can control the lift from a comfortable standing position.

The 70Q is equipped with two hydraulic cylinders (one stationary and one moveable) for a total capacity of 50,000 pounds. The 703Q has three cylinders (one stationary and two moveable) with a total capacity of 75,000 pounds. Each lift's cylinders are automatically equalized and easily adjusted with push-button controls. The cylinders feature Rotary Lift's exclusive EnviroGuard coating to protect against electrolysis and corrosion. EnviroGuard comes with a 10-year warranty.

As a founding member of the Automotive Lift Institute (ALI), Rotary Lift is a strong proponent of third-party testing and certifying vehicle lifts to meet ANSI/ALI ALCTV-2011, the industry safety and performance standard. In fact, Rotary Lift offers more certified lift models than any other manufacturer. Both the Rotary Lift 70Q and Rotary Lift 703Q are ALI certified.

"Our updated traditional inground lifts give heavy-duty fleet customers a cost-effective option for retrofits or new construction," explains Doug Spiller, Rotary Lift heavy-duty product manager. "Fleets have relied on Rotary Lift inground lifts for decades, and they know this is a product they can count on to perform every day. The updated lifts are made right here in Madison, Indiana; they're ALI-certified, and they're our lowest-priced heavy-duty inground lift. They're a great value."

For maximum flexibility, the 70Q and 703Q frame lengths are customizable in one-foot increments to fit existing pits or new facility designs.

Rotary Lift offers the broadest line of vehicle lifts in North America, including a wide range of ALI-certified inground lift models. In addition to the 70Q and 703Q traditional inground lifts, customers can choose MOD Series lifts with or without environmental containment, or EFX Series inground scissor lifts. All Rotary Lift heavy-duty inground lifts come standard with Rotary's patented Universal Saddle Adapter that provides lift operators with fast and easy setup to reach virtually any truck or bus pick-up points. For specific transit applications, the ultra-low profile saddle adapter is available.

About Rotary Lift
Rotary Lift is the leading brand of vehicle lifts designed to increase technician productivity. Celebrating 90 years in 2015, Rotary Lift was founded in 1925 by the inventor of the first automotive hydraulic lift and now offers the broadest line of lifts for use in professional automotive service, commercial truck and transit applications. There are more Rotary Lift products used in vehicle repair facilities around the world than any other brand.

Rotary Lift is a Vehicle Service Group (VSG) brand. VSG comprises nine global vehicle lifting and collision repair brands: Rotary Lift, Chief®, Forward® Lift, Direct-Lift®, Hanmecson®, Revolution® Lift, Elektron, Blitz® and nogra®. With its American headquarters in Madison, Indiana, VSG has operations worldwide, including ISO 9001-certified manufacturing centers in the U.S., Europe and Asia. VSG is part of the Engineered Systems segment of Dover Corporation, a multi-billion-dollar, global producer of innovative equipment, specialty systems and value-added services. Rotary Lift is a GSA contract holder, GSA contract #GS-07F-8953D (Dover Industries, Inc., DBA Rotary Lift). Rotary Lift products are also available through a number of other government procurement programs, including NJPA, HGACBuy, CMAS, TXMAS and KCRPC.
For more information about Rotary Liftor other products, click here to go to Utility Products' Buyers Guide.