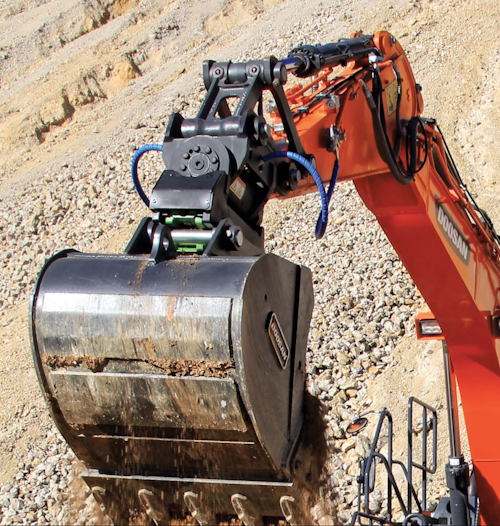 Construction equipment: Doosan introduces its new power tilting coupler, providing increased excavator flexibility, versatility and precision when digging trenches, general excavation applications and final grading tasks.
The new power tilting coupler is approved for Doosan excavators: the DX63-3 compact model; DX140LC-5 through DX255LC-5 crawler models; and DX140W-5 through DX210W-5 wheel models.
With the new coupler, Doosan excavator operators can angle a trenching or ditching bucket 67 degrees left and right for up to 134 degrees of flexibility. Excavator operators can save time when using the coupler because they will not have to reposition the excavator as frequently while working, or stop to change attachments to perform certain tasks.
The Doosan power tilting coupler provides precision while digging and can work under or around objects, such as an underground pipe, to complete excavating tasks.
Additionally, the coupler can eliminate the need for multiple attachments on a jobsite. This can be most beneficial for operators working in general excavation, underground utility, landscaping and grading, and erosion control applications. In demolition applications, the ability to tilt a breaker attachment can help excavator operators reach concrete without repositioning the machine.

ABOUT DOOSAN INFRACORE CONSTRUCTION EQUIPMENT AMERICA
Doosan Infracore Construction Equipment America, headquartered in West Fargo, North Dakota, markets the Doosan brand of products that includes large excavators, wheel loaders and articulated dump trucks. With more than 160 heavy equipment dealer locations in North America, Doosan is known for an unmatched dedication to service and customer uptime, and durable, reliable products. Doosan is fast becoming a global force in heavy construction equipment. Doosan Infracore Construction Equipment America is a subsidiary of Doosan Bobcat Inc., a wholly owned subsidiary of Doosan Infracore Co., Ltd.
For more information about Doosan or other products, click here to go to Utility Products' Buyers Guide.