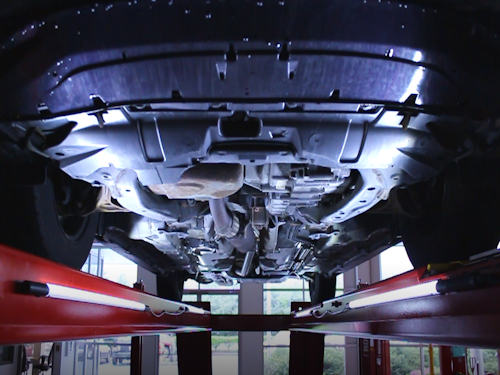 Work lights:When raised onvehicle lifts, trucks and buses can block overhead shop lights and force heavy-duty technicians to use other means to illuminate the work area. Traditional solutions – including incandescent flashlights, stand-mounted fluorescent lights and suspended work lights – are bulky and can obstruct access to vehicle components. They are also inefficient and can be too hot to touch after prolonged use.

Rotary Lift's new LED runway light kit for heavy-duty vehicle lifts addresses all of these issues. The Line Light 4 kit includes four long LED light wands that unobtrusively attach to the lift itself, freeing up the technician's hands. The Line Light 4 kit uses more than 600 LEDs producing more than 4,000 total lumens — the equivalent of about four 75-watt incandescent bulbs — and yet the lights remain cool to the touch even after hours of use.

"It can be difficult to get enough light under long, wide vehicles in heavy-duty service facilities," says Doug Spiller, Rotary Lift heavy-duty product manager. "Rotary Lift's new Line Light 4 LED kit was designed specifically for this setting. Its unobtrusive design allows for the free movement of technicians and their tools, and its rugged housing is built for harsh shop environments. Plus, LEDs use little energy, so facility managers don't have to worry about big power bills from technicians leaving the lift lights on all day."

The Line Light 4 kit (P/N FA5700) works with Rotary Lift's HDC Series, parallelogram, SM30 and AR18 heavy-duty lifts, and can be retrofitted to most runway-style lifts. The kit's four LED wands range from 50.5 to 56 inches long and can be connected in series to enable all lights to be controlled by a single switch.

Each Line Light 4 light wand is held in place by magnetic clips, which allow the wand to be repositioned along the lift's runways as needed. The magnetic clips also enable each wand to be rotated along its horizontal axis to shed light on the floor, tool cart or vehicle underside. The magnetic clip setup, along with the Line Light 4 kit's minimal wiring, ensures runway jacks can be rolled along the lift's entire length without encountering any obstructions.

The Line Light 4 kit is part of Rotary Lift's Tech Light™ line, which also includes the Line Light 2 kit for two-post lifts (P/N FA5701) and the Line Light R handheld lamp (P/N FA5702). To learn more about these work lights, and to watch a video of them in action, visit www.rotarylift.com/Tech-Lights/ or call 800-640-5438. For more videos, visit www.rotarylift.com/videos. You can also find Rotary Lift on Facebook, www.facebook.com/RotaryLift and Twitter, twitter.com/RotaryLift.

About Rotary Lift

Rotary Lift is the leading brand of vehicle lifts designed to increase technician productivity. Rotary Lift was founded in 1925 by the inventor of the first automotive hydraulic lift and now offers the broadest line of lifts for use in professional automotive service, commercial truck and transit applications. There are more Rotary Lift products used in vehicle repair facilities around the world than any other brand.

Rotary Lift is a Vehicle Service Group (VSG) brand. VSG comprises nine global vehicle lifting and collision repair brands: Rotary Lift, Chief® Automotive Technologies, Forward® Lift, Direct-Lift®, Hanmecson®, Revolution® Lift, Elektron, Blitz® and nogra®. With its American headquarters in Madison, Indiana, VSG has operations worldwide, including ISO 9001-certified manufacturing centers in the U.S., Europe and Asia. VSG is part of the Engineered Systems segment of Dover Corporation, a multi-billion-dollar, global producer of innovative equipment, specialty systems and value-added services. Rotary Lift is a GSA contract holder, GSA contract #GS-07F-8953D (Dover Industries, Inc., DBA Rotary Lift). Rotary Lift products are also available through a number of other government procurement programs, including NJPA, HGACBuy, CMAS, TXMAS, KCRPC and OGS.
For more information about Rotary Lift or other products, click here to go to Utility Products' Buyers Guide.