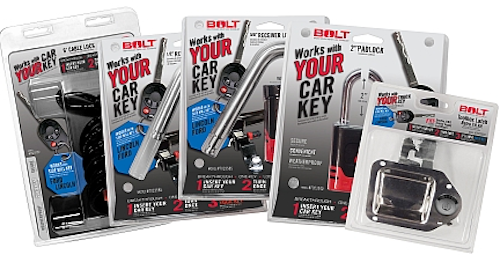 Utility vehicles: The BOLT (Breakthrough One-Key Lock Technology) series of locks, designed to provide convenient, one-key access to multiple locks, can streamline the workday and improve security for owners of 2015 and 2016 Ford Transit and Transit Connect commercial vans.
Patented BOLT locks are designed so that a single ignition key can be programmed to open any number of BOLT locks, reducing the need for multiple keys. The first time the ignition key is inserted into the BOLT lock cylinder spring-loaded plate tumblers move, immediately coding the cylinder to that unique key. From then on, only the driver's ignition key is needed to unlock a padlocked toolbox, unhitch a trailer or secure gear and other valuable equipment.
Rugged, weatherproof BOLT locks are manufactured with an electroless nickel-plated carbon steel pin or shaft assembly/shield for strength and durability, and feature an automotive-grade stainless steel lock shutter and a six-plate tumbler sidebar that prevents picking and bumping. The BOLT product line includes:
* The weatherproof BOLT Coupler Pin Lock is designed to secure trailers when not in tow, fits couplers from 1/2-inch to 3 3/8-inch, and slides easily along stainless steel pin. Part number 7025290.
* BOLT's 5/8-inch and 1/2-inch Receiver Locks prevent theft of trailer ball mount or accessories and feature a durable, solid stainless steel lock shutter designed to keep out elements and debris. Part number 7023585.
* The rugged BOLT Padlock, for a range of applications, features a two-inch, chrome-plated hardened steel shackle and a double ball bearing locking mechanism encased in a durable, protective rubber shell. Part number 7023540.
* Flexible BOLT Cable Locks, made from six-foot long, 1/4-inch black vinyl coated coiled cable, feature a crush-resistant body shell and an auto-return spring which locks automatically when key is removed, securing equipment, cabinets, storage compartments and more. Part number 7023722.
* The BOLT Toolbox Latch Retrofit Kit, which enables a toolbox cylinder retrofit, helps protect and secure toolboxes with an automotive-grade cylinder. Comes with an original factory handle and works with DeeZee(r), UWS Truck Accessories and other toolbox brands featuring a paddle-style handle. Part number 7023550.
About BOLT (Breakthrough One-Key Lock Technology)
BOLT locks come with a limited lifetime warranty. Find a BOLT retailer by using the zip code finder, www.boltlock.com/retail-finder or purchase from the BOLT website at http://www.boltlock.com/shop. BOLT locks are also available at 4-Wheel Parts, advanceautoparts.com, Basspro.com, Amazon.com, and Summit Racing.com.
For more information about BOLT or other products, click here to go to Utility Products' Buyers Guide.