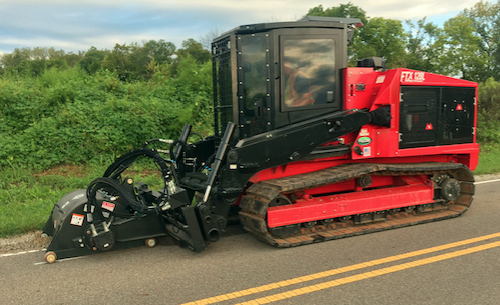 Construction equipment: Achieve faster, better, more efficient asphalt solutions on roads, parking lots, or utility projects with the power and versatility of Fecon's FTX128 track carrier. Mill asphalt up to 40" wide and 6" deep with compatible cold planers like the Coneqtec-Universal AP1000. After adjusting the high flow circuit of the FTX128 from 60gpm to 45gpm the tractor delivers over 100 hydraulic HP (calculated after 10% efficiency loss) to the planer mill. When milling is completed the FTX128 hydraulic circuits and quick attach coupler plate enable users to run complimentary attachments including brooms or buckets to make great use of the FTX128 tractor.
With the effective high flow power of the FTX128 users can save time and money in asphalt applications by avoiding saw cutting before performing patch work. Even greater savings can be achieved in Full Depth Reclamation (FDR) applications where paved surfaces are less than 6" thick. By using the FTX128 in FDR applications users recycle the old asphalt instead of having the expense of digging and hauling material away.
The versatility and power of the FTX128 is especially important to cities looking for greater utilization of their capital equipment. When not performing asphalt repairs the FTX128 can be used to improve highway safety by removing roadside vegetation that obstructs visibility or is at risk of falling into traffic. This is done with Fecon's BH85SD mulcher attachment that is powered by the full 60-gpm and 4,600-psi high flow of the tractor.
About Fecon
Fecon Inc. was established in 1992 near Cincinnati, Ohio. Fecon's Bull Hog is currently the #1 selling forestry mulcher. Fecon also provides track carriers and other equipment for vegetation management, geothermal, seismic, and wood to energy biomass industries.
For more information about Fecon or other products, click here to go to Utility Products' Buyers Guide.