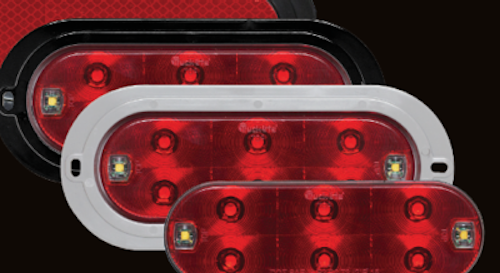 Truck accessories: Truck-Lite Co. LLC, a provider of heavy-duty lighting and visibility systems, has added the Model 60 Stop/Turn/Tail & Back-up Combination Lamp to its 60® Series line. Performing the functions of two lamps in one unit, the Model 60 S/T/T & BU is available in flange, surface or grommet mounts. The lamp also features hardwired connector options for thin depth applications, and a 4-postion LED Fit 'N Forget® AMP connector that eliminates a connection point on the vehicle harness.

Truck-Lite's stylish new 6-inch combination lamp exceeds all FMVSS 108 requirements when mounted either vertically or horizontally, even on vehicles over 80 inches wide. Its distinct back-up feature provides a clear indication of the white reverse light and does not impair the appearance of the stop/turn/tail lamp when both are illuminated, thus staying true to Truck-Lite's commitment of providing the safest and highest-quality visibility systems on the market.

In addition to its variety of mounting and wiring options, the lamp fits into standard 6-inch mounting holes, making retrofitting even more convenient. In conjunction with the available reflector cap, which is mounted in place of either a tail or backup lamp, the newest member of the 60® Series family economically turns a vehicle's previous four-lamp system into a two-lamp system.

The Model 60 S/T/T & BU lamp and its accessories can be ordered easily using the following custom part numbers: 60550R, 60551R, 60552R, 60553R, 60554R, 60555R, 60556R, 60557R, 60558R, 60559R and 94966.

The new Model 60 S/T/T & BU is proudly made in the United States and is backed by Truck-Lite's limited lifetime warranty.
For more information about Truck-Lite or other products, click here to go to Utility Products' Buyers Guide.