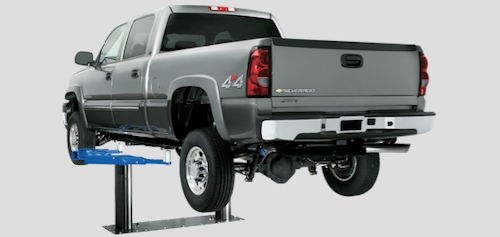 Utility vehicles: Rotary Lift's patented Shockwave™ technology is now available on the 12,000 lb. capacity SmartLift inground lift, making it possible to service pick-ups, work trucks and vans twice as fast.

The SL212 SmartLift inground lift can raise a vehicle 83 inches off the ground in just 30 seconds and lower it in 19 seconds flat, making it the world's fastest lift for vehicles weighing up to 12,000 lbs. This super speed enables technicians to complete more jobs per day, making more money for themselves and their shops.

"You can't buy a faster lift than one equipped with Rotary Lift's award-winning Shockwave technology," says David Fischmer, marketing director for Rotary Lift parent company Vehicle Service Group. "Originally available only on our 10,000 lbs. capacity two-post surface and SmartLift inground lifts, we responded to customer demand by making Shockwave available on higher-capacity lifts. The Shockwave-equipped SmartLift is a great choice for dealers, independent repair shops or fleet facilities that work on a lot of pick-up trucks, work trucks and vans."

Shockwave's speed is made possible in part by its energy-saving DC power unit. Shockwave-equipped lifts are battery operated with a built-in charger, which eliminates the need for expensive 220V wiring and makes it possible to continue using the lifts even during a power outage.

Getting the vehicle positioned on the lift is also faster and easier with Shockwave-equipped lifts thanks to their patent-pending Spotline™ laser spotting guide. Spotline projects a green laser line down the center of the bay. To center a vehicle, the technician simply lines up the middle of the hood or dash with the laser line and drives onto the lift.

Environmentally responsible Rotary Lift Smartlift inground lifts are made from recycled materials, are contained in a polymer housing which protects the lift and the environment, and are bio-fluid compatible, using 95% less oil than traditional style inground lifts. They have a small footprint, making it possible to install more lifts in less space, which translates into lower construction costs and increased shop profits.

The Shockwave-equipped SL212 inground lift comes with frame-engaging adapters with stackable lightweight, high-strength aluminum inserts designed to reach the proper lifting points on trucks and other large vehicles.

Made in Madison, Indiana, the SL212 inground lift is ALI gold-label certified to meet industry safety and performance standards.
About Rotary Lift
Rotary Lift is the leading brand of vehicle lifts designed to increase technician productivity. Rotary Lift was founded in 1925 by the inventor of the first automotive hydraulic lift and now offers the broadest line of lifts for use in professional automotive service, commercial truck and transit applications. There are more Rotary Lift products used in vehicle repair facilities around the world than any other brand.
Rotary Lift is a Vehicle Service Group (VSG) brand. VSG comprises nine major vehicle lifting and collision repair brands: Rotary Lift, Chief®, Forward® Lift, Direct-Lift®, Hanmecson®, Revolution® Lift, Elektron, Blitz® and nogra®. With its American headquarters in Madison, Indiana, VSG has operations worldwide, including ISO 9001-certified manufacturing centers in the U.S., Europe and Asia. VSG is part of the Engineered Systems segment of Dover Corporation, a multi-billion-dollar, global producer of innovative equipment, specialty systems and value-added services.
For more information about Rotary Lift or other products, click here to go to Utility Products' Buyers Guide.