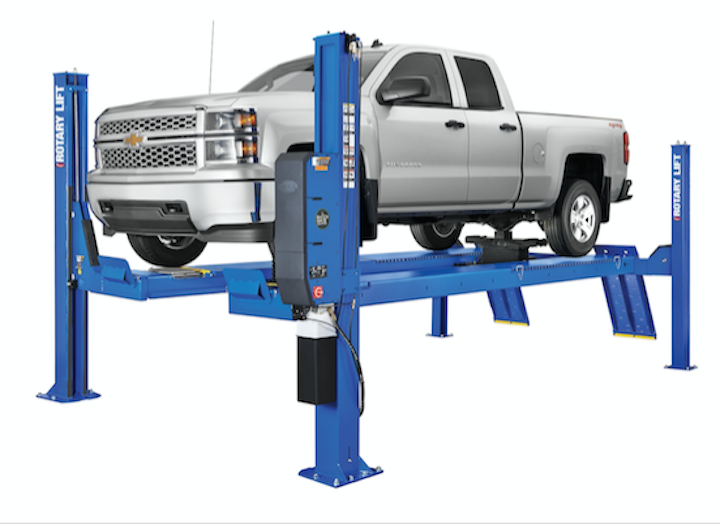 Vehicle maintenance: Four-post drive-on vehicle lifts are easy to install, use and maintain. In fact, the only hard part about four-post lift ownership is the initial decision about which configuration to buy. That's because lift manufacturers like Rotary Lift offer a wide variety of four-post models, with options designed to fit a variety of applications.

"Four-post lifts play an integral role in the vehicle service industry, because not all vehicles can be serviced by using a lift with arms or pads," says Jim Dirksen, vice president of light-duty for Rotary Lift. "Sometimes, the size and weight distribution of a vehicle necessitates that it be driven onto runways. Four-post lifts are also ideal for simple maintenance, inspection procedures and general service, because they have easy drive-on access and feature an open space between the runways that provides access for technicians along the complete length of the runway for vehicle underbody viewing. If the customer can determine the right configuration during the buying process, the lift should provide years of worry-free service."

How to choose the right four-post lift? There are five main factors to consider:

• Length. The wheelbases of the vehicles being lifted will play the most important role in four-post lift selection. First, the lift buyer should determine the wheelbase of the longest vehicle he or she is going to service. This number will determine the length of the lift. To accommodate a variety of wheelbase requirements, four-post lift runways can be ordered in many different lengths. When setting up a four-post lift bay, it is important to plan for adequate space in front of and behind the lift, taking the runways and any ramps into account. Most light- and medium-duty four-post lifts will fit in the Equipment & Tool Institute's recommended 25-foot long bay, but tight drive-on/drive-off clearances can frustrate technicians and reduce productivity. That's why Rotary Lift facility planning experts recommend a 28-foot-long bay for the company's extended-length SM Series four-post lift, even though the lift is less than 24 feet long from end to end.

• Capacity. Once you have determined what length will be sufficient for your wheelbase needs, it is time to consider the weight of the vehicles that will be lifted. Four-post lift capacities range from 14,000 lbs. all the way up to 60,000 lbs. Since most vehicles – up to and including Class 3 pickup trucks like the Ford F-350 – weigh less than 14,000 lbs., a 14,000 lb. capacity lift will be sufficient for many facilities. If a shop services work trucks and other heavy fleet vehicles, it might be beneficial to select a four-post lift with 18,000 or 30,000 lbs. of capacity. A four-post lift's physical footprint and rise time will typically increase with capacity, so the ability to lift heavier vehicles may come with space and efficiency tradeoffs. In general, 40,000-60,000 lb. capacity four-post lifts should be reserved for buses, RVs and Class 8 trucks.

• Speed. When it comes to your facility's productivity and profitability, every second counts. The faster the technician can raise the vehicle, the sooner he or she can get to work and complete each job. While all four-post lifts are quick and easy to set up, only Rotary Lift is capable of providing the world's fastest rise times. Its Shockwave™-equipped 14,000 lb. capacity SM Series and AR Series four-post lifts require just 35 seconds to reach full lifting height, which is twice as fast as a traditional four-post lift. Shockwave-equipped lifts also come with the exclusive Spotline™ laser spotting guide to make it even easier to drive onto the lift. To further increase productivity, consider a drive-thru model that has ramps on each end. This enables the vehicle to be driven on and off the lift in one direction, preventing congestion on the shop floor.

• Accessibility. Four-post lifts are available with either an open front or closed front design. An open front design eliminates the crossbeam between the runways at the front of the lift, which makes it easier for technicians to access engine and front suspension components. Increased accessibility and work space can be beneficial, but they are not necessary for all applications. Since open front lifts have wider footprints than closed front lifts, facilities with space restrictions and narrow bays may be better served by a closed front design.

• Versatility. While length, capacity and configuration selections will be primarily determined by the types of vehicles you service, other options are available that can greatly increase the versatility of your four-post lift. For instance, if you plan on using your lift for wheels-free tire and brake work, rolling jacks are a must-have. These jacks travel along tracks located on the inside of each runway and engage the vehicle by its frame or pick-up points. If you will be performing alignments, choose a four-post lift with an alignment kit. The jacks, turntables and slip plates that come with these lifts are compatible with most alignment systems, because it is ideal to order your lift from a dedicated lift manufacturer and your alignment instrumentation from a company that specializes in alignments. Bolt-on retrofit kits are available, making it easy to increase the versatility of four-post lifts already in place.

"At Rotary Lift, we are always researching, designing and testing new ways to make our lifts better," says Dirksen. "All of our resources are dedicated to lifts and lift accessories. That's part of the benefit of buying a lift from a lift company that has been an industry leader for more than 90 years. If you are outfitting your facility with premium equipment, it only makes sense to insist on vehicle lifts built by a company that focuses year-round on lifts."

To learn more about four-post lifts and how to choose the best one for your application, download the free Buyers Guide: Four-Post Lifts at blog.rotarylift.com/four-post-lift-buyers-guide-free-ebook.
About Rotary Lift
Rotary Lift is the leading brand of vehicle lifts designed to increase technician productivity. Rotary Lift was founded in 1925 by the inventor of the first automotive hydraulic lift and now offers the broadest line of lifts for use in professional automotive service, commercial truck and transit applications. There are more Rotary Lift products used in vehicle repair facilities around the world than any other brand.

Rotary Lift is a Vehicle Service Group (VSG) brand. VSG comprises nine global vehicle lifting and collision repair brands: Rotary Lift, Chief®, Forward® Lift, Direct-Lift®, Hanmecson®, Revolution® Lift, Elektron, Blitz® and nogra®. With its American headquarters in Madison, Indiana, VSG has operations worldwide, including ISO 9001-certified manufacturing centers in the U.S., Europe and Asia. VSG is part of the Engineered Systems segment of Dover Corporation, a multi-billion-dollar, global producer of innovative equipment, specialty systems and value-added services.
For more information about Rotary Lift or other products, click here to go to Utility Products' Buyers Guide.