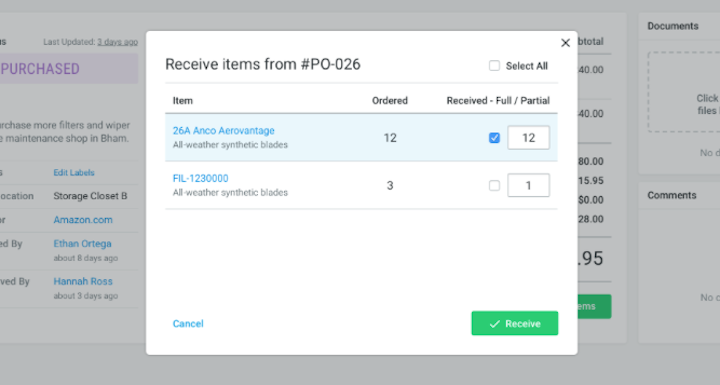 Fleet management: Fleetio launched a digital purchase order (PO) module that allows users to streamline approval and payment processes, create POs faster and gain complete visibility into purchasing history and habits. Fleetio's modern approach to POs helps fleets reduce time and money currently spent pushing paper-based purchase orders.
Fleetio's Purchase Orders module improves the process of purchasing, ordering and receiving fleet supplies by helping users reduce clerical expenses and errors, control spending and quickly reorder inventory parts. PO features in Fleetio also help fleets improve order fulfillment, allowing users to track order status and automatically update inventory levels as parts are received.
"We've tried several digital purchase order systems and none have been a fit for our busy shop until Fleetio," said Keith McCann, Parts Manager at SC Ballard. "With so much going on, it's great to have the ability to track when we ordered parts, when we received them and which parts still need to be ordered."
About Fleetio
Fleetio helps companies track, analyze and improve their fleet operations. Rather than using spreadsheets or outdated software, Fleetio enables fleets of all sizes to manage everything in a modern, intuitive system. Fleetio offers simple and comprehensive management of all day-to-day fleet operations and data while also providing fuel card and GPS integration, all-inclusive support, unlimited account users and online and mobile accessibility.

For more information about Fleetio or other products, click here to go to Utility Products' Buyers Guide.